Bucs Ink Blount To New Contract
March 9th, 2013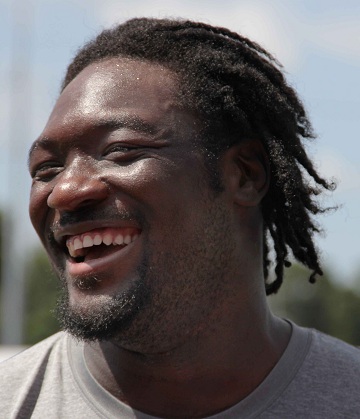 The New Schiano Order hasn't figured out how to use LeGarrette Blount effectively, but at least it knows Blount has value.
Rather than slap a restricted free agent tender on Blount — the deadline is Tuesday — and potentially risk losing him, Tampa Bay went ahead and inked Blount to a new contract, so reports Joel Corry of NationalFootballPost.com. Corry Twittered out details this morning.
                        @corryjoel –  LeGarrette Blount re-signed with the Bucs for 1 year at $1.75M ($1.25M-base salary, $350k-reporting bonus & $150k-workout bonus).
Yes, Greg Schiano wants a bell cow back and has one in Doug Martin. But the reality is the entire Bucs season could come crashing down without a quality backup running back. And Joe believes Blount is not only a guy that can be durable and can carry the load, if needed, he's also an unused weapon.
Not to be ignored, Blount fixed his ball security issues from 2011, and didn't record a fumble during the regular season or preseason.
Hopefully, running backs coach Earnest Byner can further develop Blount, and Mike Sullivan can figure out how to use him effectively. The Ravens cut Ray Rice's carries by nearly 20 percent last season and won a Super Bowl.