Agreement In Place For Darrelle Revis?
March 13th, 2013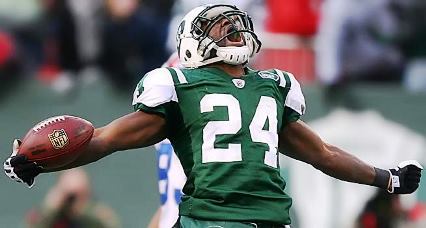 After two very busy days, Joe decided to take a bit of a break on breaking Bucs news by watching some "24" off his DVR followed by "The Americans," and when Joe comes up for air, Darrelle Revis news is all over the place!
Damn, Jack Bauer! Damn, Nina!
First, Jason Cole of Yahoo! Sports claims that Team Glazer is all aboard the Revis-to-Bucs bandwagon and has given Bucs rock star general manager Mark Dominik the green light to grab Revis.
While the trade price for a star player was set this week with the Seattle Seahawks giving up a first- and a seventh-round this year and a third-round pick in 2014, the Bucs aren't willing to match that deal exactly, a team source said. The big difference is that Seattle's first-round pick this year was No. 25 overall, far less valuable than Tampa Bay's first selection.

The same Bucs source indicated Tampa Bay might be more willing to surrender its 2014 first-rounder, gambling that next year's selection won't be as high if the team improves. The Buccaneers have already made a significant play in free agency to improve by signing safety Dashon Goldson to a reported five-year, $41.25 million deal.

As for why the Jets, who declined to comment, might be better off with a first-round pick next year, it's highly possible the team may have to make a change at quarterback and perhaps head coach after the 2013 season. More draft picks in 2014 might give the Jets the ammunition to make a trade, if necessary, for a higher pick depending on how many quarterbacks are available in the 2014 draft. For instance, Teddy Bridgewater of Louisville is projected by many analysts to be a first-round pick next year and Heisman Trophy winner Johnny Manziel of Texas A&M could also declare for the draft.
As Joe mentioned earlier today, the Jets — for reasons not very clear — are stonewalling the Bucs.
But the rumors get better. The creator, curator and overall guru of ProFootballTalk.com, the great Mike Florio, has typed that compensation and a salary have already been worked out as Dominik has gone through back channels to get this done, sidestepping the Jets and their general manager, John Idzik.
Food for thought: Vincent Jackson's agent also represents Revis. Feel free to do the math.
Though some continue to insist that the deal still has too many moving parts, there's a growing belief that the only remaining issue is whether the Jets will take what the Bucs are offering. As to the compensation for Revis, the suspicion is that the Bucs and the player's agents have worked out the terms discreetly.

Sure, it's tampering. But it happens more often than anyone admits, league office memos be damned. And if the Jets want to get this trade accomplished, it's necessary.
Though Joe won't exactly stand outside the gates of One Buc Palace with a lit torch if this goes through, Joe hopes Dominik passes.
Raise your hand if you know Revis, coming off ACL surgery, is healthy. Has anyone watched Revis cover anyone yet since his injury knocked him out of last season? This is not to mention the guy is always whining. How many times has he threatened to hold out or actually did hold out?
There is just no way Joe would trade a first round pick for Revis with his salary and injury. Dominik should tell Idzik if he doesn't want a second round pick to go pound sand and try to find another team who will cough up a first round pick.
And there isn't another team that foolish. It's one helluva expensive gamble to trade a coveted first round pick for a guy who, unless he signs a contract, may bolt after one season and not one person, not even Revis himself, knows if he can play anywhere close to what he has in the past.