What Should Da'Quan Bowers Expect?
February 19th, 2013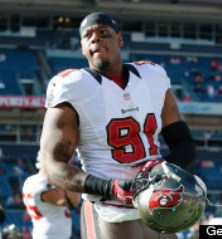 In the wake of Bucs defensive end Da'Quan Bowers getting pinched for having a loaded gun at LaGuardia Airport in New York yesterday, details about the arrest as well as what Bowers could expect from the State of New York are leaking out.
Of course, Joe already dove into the legal hurdles Bowers must climb in order to avoid jail time altogether.
Shane Dixon Kavanaugh and Kerry Burke of the New York Daily News had a gripping blow-by-blow of what went down at LaGuardia Monday morning with Bowers.
Bowers — a second-round draft pick in 2011 who played college ball at Clemson University — was collared after he waltzed up to a US Airways check-in counter about 10:50 a.m. and told a ticketing agent he was packing a Smith & Wesson, authorities said.
The New York Post reports Bowers had the gun in his baggage on the flight to New York and didn't realize it until he arrived at his hotel.
For those who fly regularly or infrequently, when checking bags, agents are asked if you have any dangerous items or firearms. Bowers, honest yet naively, stated, yes he did.
Next thing you know, Bowers was hauled away in cuffs.
Now Bowers was charged with the very same thing NFL wide receiver Plaxico Burress was slapped with and he spent the better part of two years in the hole.
But as Mike Florio, the creator, curator and overall guru of ProFootballTalk.com and a former practicing attorney, points out, the circumstances are night and day.
Still, prosecutors could regard Bowers' case differently. Burress took his gun into a Manhattan nightclub, securing it in the waistband of his pants and having it discharge in the building. Though he only shot himself, the end result could have been much worse.

Bowers, if he'd known the severity of the New York law, could have found a way to get rid of the gun short of handing it over and essentially confessing his guilt. Throwing the book at him seems grossly unfair.
Sal Paolantonio, of ESPN, writing when Burress was arrested, noted that nearly 24 percent of those convicted of a lesser felony possession charge  didn't serve a day in prison, but 24 percent spent one year in jail.
Indeed. Burress put many innocents at risk with his reckless decision. Bowers put no one at risk, and thought he was doing the right thing by telling a ticketing agent of the firearm, surely hoping to learn how to properly check the gun for travel.
If this case goes to trial, and the Burress trial is any barometer, Joe would be shocked if it took place before the end of the 2013 season.
Aside from a few mandatory court appearances, Joe cannot see Bowers missing any playing time as a result this season, barring the long arm of NFL warden commissioner Roger Goodell getting involved.