The Fate Of Ronde Barber
February 26th, 2013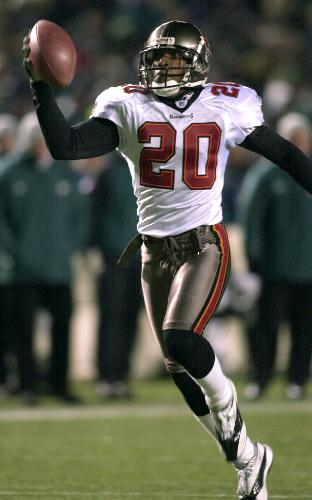 Will he stay or will he go? That's where the fate of Ronde Barber stands with the Bucs.
One of the greatest cornerbacks to ever play the game, certainly the best to ever wear a Bucs uniform, graybeard Barber is a free agent. So far, the Bucs and Barber, who will turn 38 in April, haven't had formal talks about next season.
This subject came to Booger McFarland's mind. The former Bucs defensive tackle and current on-air personality for WHNS-FM 98.7 gave his two cents on Barber's future, if there is any with the Bucs.
"Ronde Barber. He isn't talking, and the Tampa Bay Buccaneers aren't talking. It is a simple game of chess or is it a we-are-going-to-take-our-time-to-get-into-it? Does Ronde Barber deserve his own say? Can the Tampa Bay Buccaneers force him out the way they forced Derrick Brooks out, the way they forced Warren Sapp out? Or does Ronde Barber deserve to be treated any differently? Right now they are not talking so we don't know. It is still a business. Just turn the tape on. If he can play, you bring him back. If he can't, you let him go. Either way, he's a Hall of Famer."
Well, as Bucs coach Greg Schiano told Joe in an exclusive one-on-one interview from the NFL Scouting Combine in Indianapolis last week, this is the way the Bucs planned it. They wanted Barber to step away for a while and discuss his future with his family.
It sure seemed by Schiano's answer and body language he would like Barber back. But perhaps Barber, who only suffered one serious injury to close the 2011 season, may just count his blessings and step away?
No, this isn't like Brooks or Sapp. Barber is a free agent. Brooks was cut. Sapp was conned by Chucky, and Sapp wound up signing with the Raiders as a free agent.
Joe doesn't sense any shenanigans whatsoever between the Bucs and Barber. Joe is confident the combine took priority. Now that it is over, perhaps Bucs rock star general manager Mark Dominik and Schiano will break bread with Barber this week, over team-pre approved pasta, and find out if the two can come to an agreement or not.
If Barber doesn't come back, then obviously the Bucs will be in the market for a safety.