Strahan Fires Back At Sapp
February 8th, 2013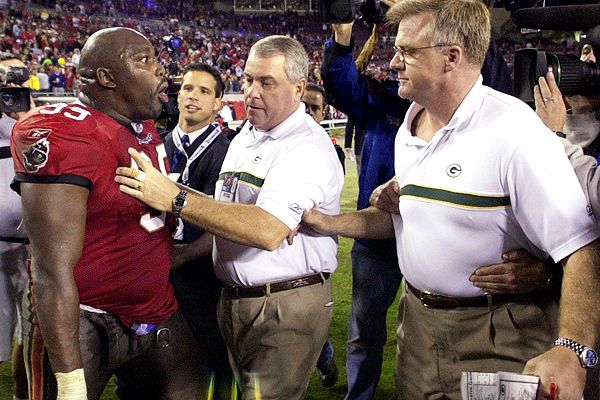 Warren Sapp started it, and now Michael Strahan seems determined to show off his urine stream in the blossoming pissing match between the two legendary defensive linemen.
Sapp was voted into the 2013 Hall of Fame class Saturday, but Strahan, also in his first year of eligibility like Sapp, didn't make the cut. Joe documented on Wednesday that Sapp trash talked Strahan a bit during a Tampa radio interview.
"Say if I rewind this to Saturday at 12 o'clock me and you are sitting and I say, 'It breaks down whatever and whatever and then you have Michael Strahan and me. C'mon, the menace and the media darling,'" Sapp said. "C'mon. Madness, or Good Morning America? I mean, c'mon."
And now Strahan is firing back directly to Sapp on Twitter.
@MichaelStrahan – @WarrenSapp You never cease to amaze me! Enjoy your moment. You don't need to take a shot at me to justify yourself to other people. #class … … @WarrenSapp I only competed against myself. Don't let people make you get at me to justify your HOF selection. Enjoy it because u earned it. … …  … You have my # too. I'm a grown man and handle myself like one. Respect me and I respect you! "@WarrenSapp: @michaelstrahan u got my #!"
Joe can't disagree with Strahan. Sapp did take a needless, irrelevant shot. It'll be fun to see how No. 99 responds. Perhaps a pay-per-view MMA cage fight is in order. Sapp could use the cash.