Mason Foster Likely To Stay In The Middle
February 25th, 2013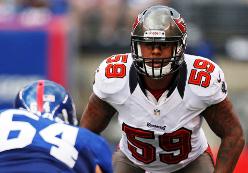 It was no shock to learn that outside linebacker Quincy Black's odds of returning to the Bucs took a downturn last week, when it was revealed Black had surgery for nerve damage.
There was some smart speculation that Bucs middle linebacker Mason Foster could be moved to the outside, as that was his primary position in college. And while speaking to Woody Cummings of The Tampa Tribune, Bucs coach Greg Schiano didn't completely rule out that move, though Schiano's preference is to keep Foster right where he is.
Tampa Bay officials thought Foster improved markedly in his second season last year, especially as a run stopper, and needs just a little more coaching to become the all-around playmaker they need.

"I thought Mason played really good football at times last year," Bucs coach Greg Schiano said. "Now, there were other times when he didn't play all that well, but that's really on us as coaches.

"We need to get to a point as coaches where, when we see that a guy can do it and he can get the job done the way we want him to, we get him to do it all the time, because that's our job. Now, if a guy can't do it, that's a different story. Then you have the wrong guy in there and you have to weather it until you can replace him."
Yes, Joe wrote Foster was on his way to munching on pineapple because he played so well early last season. In fact, Foster arguably made the most improvement of any Buccaneer from 2011. Sure, he slipped toward the end, but notice it coincided with Black's injury? Not exactly a coincidence.
This just opens the draft door even wider for Bucs rock star general manager Mark Dominik. The Bucs could pick a corner, a defensive end, an offensive tackle, a tight end, an outside linebacker, a safety or a middle linebacker in the first round, and an argument can be made for each.
It's starting to smell like Dominik is going to take the best player available at No. 13, sans a quarterback, running back or wide receiver.