Mason Foster And Middle Linebacker
February 21st, 2013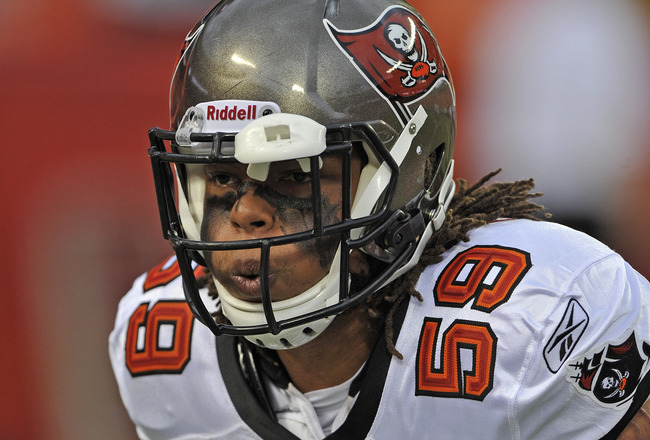 Joe wrote many times last year that he thought Mason Foster, the biggest Ric Flair fan in the Bucs locker room, played at or close to Pro Bowl level early in theseason. Joe even told Foster Joe thought he would be eating pineapple in January.
But that didn't happen. Foster's play slid toward the end of the season, and Joe doesn't think it was a coincidence Foster's play declined when Quincy Black went down with nerve damage. Most Bucs fans know the Bucs may have their eyes on an outside linebacker with the likelihood that Black cannot return. Earlier this year, Bucs coach Greg Schiano noted that the Bucs, on behalf of Black and his doctors, were consulting with doctors from Europe, which demonstrated the seriousness of Black's injury.
Foster, a former outside linebacker at Washington, might be revisiting his old position.
Monitoring outside linebackers, however, may be too narrow of a focus, Woody Cummings believes. The Bucs beat writer from the Tampa Tribune thinks Bucs rock star general manager Mark Dominik just may draft a middle linebacker and move Foster to the outside, Cummings Twittered this morning.
@RCummingsTBO: Something to consider is possibility Bucs will draft or sign a free agent MLB and move Mason Foster to SLB as replacement for Quincy Black
When Foster was a rookie he played, and looked like, he was simply overwhelmed at the NFL level. At the time, Joe was screaming for the Bucs to move him back to the outside. But Dominik's hunch was right. Foster could — and did — play well at middle linebacker (got some coaching for a change last year), though he could brush up a bit on pass coverage.
As well as the Bucs played against the run last year, Joe would hesitate to do too much tinkering moving players around. The fact Foster played so much outside linebacker in college may just give Dominik flexibility in order to fill Black's void.