E.J. Manuel Says He Is Best In Class
February 23rd, 2013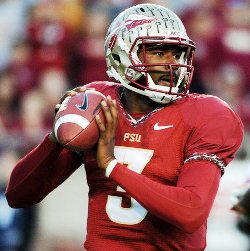 Joe has no idea if Florida State quarterback E.J. Manuel will be a success in the NFL much less have any type of football career. Joe has seen projections of Manuel as Day 2 pick to an undrafted free agent, a work in progress to a practice squad guy.
Joe can write this with certainty: Manuel is one of the most impressive college players Joe has dealt with. Confident, eloquent, polished, intelligent, Manuel oozes personality and is nothing but polite.
Manuel comes across like the type of guy you'd want your daughter to marry.
Manuel met with reporters Friday afternoon at the NFL Scouting Combine and he did his best to sell himself to teams as a completely versatile quarterback.
"Pro style? I wasn't in a gun all the time. I knew how to do a cadence," Manuel said. "I can tell there was a difference [with other quarterbacks]. At the Senior Bowl, they taught us stuff that I already knew. I've done some read-option. I know I can do it.
"I think I am the best quarterback in this class, no disrespect to anyone. I have proved I am consistent in my reads and my accuracy."
Manuel can handle pressure it sure appears. He won four bowl games, the first when he was a freshman in the Gator Bowl in what was Bobby Bowden's final game. The sidelines were ringed by greats of Florida State's past. Don't think there was pressure on the kid to pull out a win then?
(In that same game, Manuel out-dueled a guy named Geno Smith and West Virginia.)
Look, Joe hasn't forgotten Greg Schiano's decree for competition at all positions, though this week Schiano was adamant that Josh Freeman is locked in as the Bucs starter.
Would Manuel be a nice late-round pick up to sit and develop and watch the game behind Freeman? Joe could think of worse choices.
Meanwhile, Manuel, who was the Senior Bowl MVP, seemed to enjoy all the attention he has received at this week's combine.
"I have watched the combine every year since I've had the NFL Network," he said.
Joe has a pretty good idea that if this NFL thing doesn't work out, Manuel will be a success at whatever he tries in life.