"Dominik Knows His Job Is On The Line"
February 16th, 2013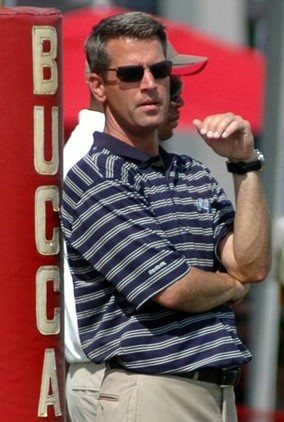 The paywall is down. The paywall is down.
PewterReport.com spiritual leader and Bucs beat writer Scott Reynolds removed the pay-per-read feature from his regular "Fab 5" column yesterday. In that edition, Reynolds claimed to know an innermost thought of rockstar general manager Mark Dominik when it comes to his job security. And Reynolds was emphatic that Dominik's job is in jeopardy without a standout Bucs season in 2013.
FAB 1. Buccaneers general manager Mark Dominik knows his job is on the line. In order for him to maintain job security in 2014 and beyond, Tampa Bay likely has to make the playoffs in 2013. At least that's what he thinks.
Reynolds goes on to speculate about the impact of new director of college scouting Eric Stokes. If the Bucs draft BYU defensive end Ezekiel Ansah in the first round, Reynolds believes, then it could be some sort of statement on Dominik's mindset and future.
It will be interesting to see what happens if Ansah is still on the board by the time Tampa Bay picks at No. 13. If he becomes a Buccaneer it will speak volumes about how much influence Stokes now has in the war room, and how much comfort level Dominik has about his future at One Buccaneer Place.
Frankly, Joe would be surprised if Dominik told any media that he thinks his job is in jeopardy if the Bucs don't make the playoffs in 2013. It's possible, Joe's not claiming funny business from Reynolds, but Joe doesn't know why Dominik would say such a thing.
As for evaluating a GM, it's a challenging process with a lot more layers to it when compared to grading a head coach, but it does ultimately come down to wins and losses. However, if Dominik drafts another Rookie of the Year candidate and belts a couple of home runs in free agency, it's hard to imagine he gets canned under any circumstances after next season.