Davin Joseph Says He's "99.9 Percent Healthy"
February 2nd, 2013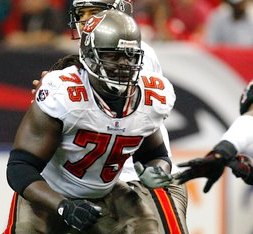 Joe envisions Greg Schiano pacing his backyard salivating at the thought of running the football behind Donald Penn, Carl Nicks, Jeremy Zuttah, Davin Joseph and whatever upgrades the Bucs make at right tackle, and at blocking tight end.
Bucs fans shouldn't soon forget that Schiano couldn't stop repeating last offseason about how much he wanted to "run the football," a phrase he would tell anyone who would listen.
But that plan got derailed early by the losses of bookend guard manbeasts Joseph and Nicks, yet the Bucs still were able to unleash Doug Martin and his stunning, 1,454-yard rookie season on the NFL. Can Martin pump out 2,000 yards in 2013?
Speaking to "Booger and Rich" on 98.7 FM yesterday, Joseph delivered great news for Bucs fans. Joseph said he's "99.9 percent healthy" from his knee blowout in the 2012 preseason.
"I want to block for that guy Doug. He's very special, man," Joseph said.

"[The offensive line] is going to start a little early. We're cheating. We're cheating. We're starting early. It is going to be something that is going to be contagious for our team. We're going to try to get just about everybody back in the building early. And we're going to work, and we're going to put in this year and really get it rollin' because it's Tampa's time. I believe that with 100 percent in my heart; it is Tampa's time to really play well. We don't have that team effort yet."
Joseph went on to explain the Bucs have loads of talent but the team must come together not just as individuals or position groups. "This offseason we need to become a team," Joseph said.
Bonding and work-ethic talk aside, Joe's just giddy to hear Joseph is healthy. Joe would love to see the Bucs have an unstoppable, consistent running game. It would improve the entire team.