"They'll Never Franchise Him"
January 16th, 2013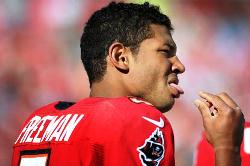 Former Bucs defesnsive tackle Booger McFarland was absolutely adamant yesterday that Team Glazer and the Bucs would balk at slapping a franchise-player tag on Josh Freeman after the 2013 season because it would cost too much money, in the neighborhood of a $17 million and $20 million guaranteed salary for 2014.
"They'll never franchise him," Booger said of Freeman on the "Booger and Rich" show on 98.7 FM.
Joe's heard this take from others, as well, and Joe couldn't disagree more, especially given that rockstar general manager Mark Dominik just said he and Team Freeman are in no hurry to negotiate a contract extension for No. 5.
Look, Joe thinks there are many potential scenarios under which the Bucs offer Freeman the franchise tag.
Here's one: Imagine if Freeman has a similar season in 2013 as he had in 2012, and the Bucs finish 9-7 and miss the playoffs. Well, under that scenario, why would the Bucs want to lock up an inconsistent sixth-year quarterback for the long term and tremendous money when they can shell out less guaranteed money for a one-year, franchise-tag deal in 2014?
Here's another: Freeman improves a bit in 2013, but the Bucs' record does not. That puts Greg Schiano on a hot seat entering 2014, and it makes no sense to lock up your quarterback unnecessarily when a coaching change could be forthcoming in 2015. So you franchise him.
Here's another: Freeman lights it up in 2013 and makes the Pro Bowl, but Mike Sullivan, buoyed by the success of Freeman and the Bucs, gets a head coaching job. Freeman wants elite-quarterback money and a long extension, but the Bucs would rather make him prove it one more year and see how he adjusts to a new offense and coordinator. So the Bucs franchise Freeman at no financial concern because they would have had to pay Freeman that kind of money to re-sign him.
There are other scenarios, as well.
Again, Joe would have liked to see the Bucs sign Freeman to a team-friendly extension, which would give Freeman some trade value in future years. But the Bucs want to wait and so does Freeman (no surprise).
Joe hopes Freeman delivers a monster 2013 season, but Joe doesn't want anyone to think that the franchise tag is off the table.