The Future Of Michael Smith
January 4th, 2013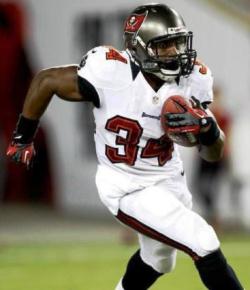 Joe was geeked when the Bucs drafted running back Michael Smith out of Utah State. A guy gifted with blazing speed, Joe was of the mind he could be the Bucs' version of Darren Sproles of the Saints, a dangerous scatback out of the backfield and a lethal kick returner.
But this never happened as Smith was only activated on opening day. It became such a joke to Joe, he renamed the weekly Bucs inactive list as the "Michael Smith List."
That may change next season, as Woody Cummings explained in a Bucs TBO Q&A.
Q: What is the plan with Michael Smith? He's never activated. Will he back up Doug Martin at some point? He's a real burner.

— Alan, Zephyrhills

A: The Bucs definitely have a plan for Michael Smith and you'll probably see it come to fruition next year. A lot depends on whether they retain LeGarrette Blount or not, but the Bucs see what you see and believe Smith has a lot of value. He was inactive for the most part this year for a couple of reasons. First, the Bucs had a greater need for bigger bodies on special teams in other spots than return man and there was also a desire to keep Smith practice squad eligible for next year. Smith is definitely part of the future here.

— Woody Cummings
Color Joe a little skeptical. Now the Bucs will say that Smith just got caught up in a numbers game because coach Greg Schiano wanted so many linebackers and defensive linemen on the bench ready to go.
That does not explain, however, that when the Bucs were playing musical chairs with return men early in the season, rather than activating Smith, the Bucs went out and signed Roscoe Parrish.
How many bodies did the Bucs go through at kick return? Yet the Bucs had a guy on their own roster they could have used, but Smith sat rotting the season away after the season opener as an inactive.
To Joe, it was borderline criminal.
So the Bucs are saying they have plays for Smith in 2013. In short, Joe will believe it when he sees it.