Ron Cooper Was Politely Pushed Out The Door
January 14th, 2013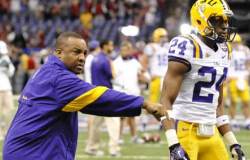 Joe made no secret that changes to the Bucs coaching staff, specifically dealing with pass defense, had to be made. Again, Joe's not a "fire him" kinda guy.
So when the Bucs secondary couldn't stop East Lake High's passing attack on a good day, and came within 14 yards of a grotesque 93-year NFL record for most yards allowed, that was simply unacceptable football and a change had to be made.
That's why Joe singled out defensive backs coach Ron Cooper. The most damning element of the Bucs secondary was one couldn't name a player who improved as the season transpired. That spoke volumes.
Now Joe knows many of his readers wanted defensive coordinator Bill Sheridan on the chopping block, too. Joe wasn't going there. Sure, he oversaw a rotten pass defense, but Sheridan also was in charge of a worst-to-first rush defense so at least he was doing something right.
Rick Stroud of the Tampa Bay Times is of the mind that Cooper, in so many words, was told by Bucs coach Greg Schiano it was in his best interests to leave voluntarily.
The Bucs essentially told Cooper to seek other opportunities but did not announce it. He's a good coach and a better person. But let's be honest: The lack of production in the secondary led to losses. Tampa Bay was last in the NFL in passing defense and nearly set a league record for passing yards allowed in a season.
Stroud also hints that there can be other changes to Schiano's staff. Of course, the best move the Bucs could make is not a move at all. If Chicago elects to hire anyone but Bucs offensive coordinator Mike Sullivan, who interviewed for their head coach vacancy, it's a win-win for the Bucs.