Ron Cooper Possibly Leaving Bucs For USF
January 10th, 2013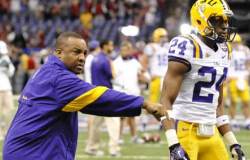 It appears the Bucs are on the verge of losing a third assistant coach to the college ranks. Joe's good friend "The Commish," Justin Pawlowski of WHFS-FM 98.7 and a member of the University of South Florida football broadcast team, is reporting that embattled Bucs defensive backs coach Ron Cooper is in discussions to become an assistant head coach at USF.
"The Commish" Justin Pawlowski is reporting that Buccaneers Defensive Backs coach Ron Cooper is being discussed to become the assistant head coach at the University of South Florida joining Willie Taggart's staff. Stay tuned to 98.7 The Fan for the latest on this story
This is a win-win for local teams in Joe's eyes. Cooper's charges came 14 yards shy of setting a 93-year NFL record of futility for worst pass defense in NFL history. If that doesn't grease the wheels for your exit, Joe doesn't know what would.
At USF, the Bulls get a man with a proven track record of coaching up and, more importantly, recruiting top level high school defensive backs as he did at LSU before Cooper came to the Bucs.
In recent days, wide receivers coach P.J. Fleck took the head coaching job at Western Michigan and quarterbacks coach Ron Turner took the head coaching job at Florida International.