"No One's In A Hurry"
January 14th, 2013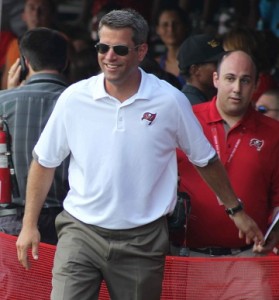 Rockstar Bucs general manager Mark Dominik painted a flowery picture of the situation surrounding a potential new contract for Josh Freeman.
Speaking this evening to Steve Duemig, of WDAE-AM 620, Dominik said Freeman's team and the Bucs are happy and patient.
"No one's in a hurry. I'm not in an hurry as the general manager of this football team," Dominik said.
Dominik said there's been "good communication between everyone" involved in Freeman's camp and the Bucs and "there's been nothing adversarial about it." Freeman's current contract expires after the 2013 season.
Joe's not surprised. If nothing else, the Bucs need to know who there offensive coordinator is going to be in 2013 and beyond before they start considering commitments.
Also, and Joe's only being realistic, one could also say it might be prudent for the Bucs to see if Greg Schiano stays off the hot seat following the 2013 season before they go and lock up Freeman.
On the flip side, if Joe were representing Freeman, Joe wouldn't be in any hurry, either. Freeman can up his value with another season that doesn't look like his 2011 campaign.