McNulty Hire Is Not Enough For Freeman
January 18th, 2013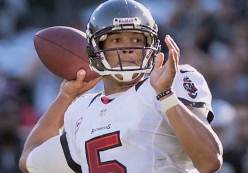 The Bucs hired decorated NFL wide receivers coach John McNulty, the former Rutgers offensive coordinator, to be their quarterbacks coach today. He was a receivers coach for years under Tom Coughlin in Jacksonville and under Ken Whisenhunt in Arizona, where Larry Fitzgerald loved him so much he flew him to a Pro Bowl. McNulty also worked for Bill Parcells.
But Joe can't say he likes this hire.
Josh Freeman could have used a QB coach who is a true quarterbacks guru, preferably one who played the position and who could really go deep on Freeman with his mechanics. In other words, the best QB coach — or team of QB coaches — on the market.
McNulty was a defensive back at Penn State in the 1980s. He volunteered to be Arizona's QB coach last season, and Arizona's quarterbacks situation was ugly.
Isn't it allegedly all about No. 5?
And if competition is supposedly coming for Freeman, perhaps from a rookie, Joe really thinks the Bucs have shortchanged themselves with this hire.
Joe sincerely hopes the Bucs plan to hire a QB mechanics maven as a consultant to work with McNulty and Freeman during the offseason.