Dominik Lands Prestigious Honor
January 14th, 2013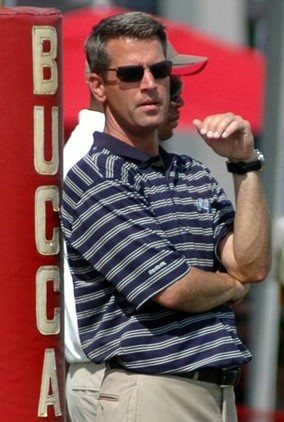 NFL fans watching the amazing playoff games this weekend repeatedly saw Bucs rockstar general manager Mark Dominik and Bears cornerback Charles Tillman on TV in USAA commercials honoring them as the two finalists for an award that recognizes those in the NFL who have shown outstanding dedication to the military community.
There were 23 nominees whose efforts were judged by a prestigious panel:
Roger Staubach, Naval Academy graduate, NFL Hall of Fame quarterback and Super Bowl MVP
Chad Hennings, Air Force Academy graduate, three-time Super Bowl champion
Rocky Bleier, U.S. Army veteran, four-time Super Bowl champion
Jim Mora, Sr., Marine Corps veteran, former NFL head coach
General Stephen Speakes, U.S. Army veteran, USAA executive vice president
Paul Hicks, NFL  Executive Vice President, Communications
Joe definitely felt some pride for the home team seeing Dominik in the mix, and Joe was more appreciative of the accomplishment after learning of the judges.
Good luck to Dominik as the panel will pick the "Salute to Service" winner before the Super Bowl.