UNC Blocks Butch Davis From Taking FIU Gig
December 27th, 2012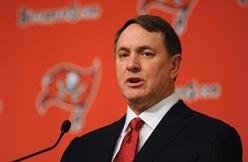 Bucs team advisor (?) and Greg Schiano confidant Butch Davis, despite previous reports, apparently was about to take the opening at Florida International University, per reports from FoxSports.com insider Alex Marvez.
Problem is, Davis is still being paid by North Carolina and to take the FIU gig, he would need permission from North Carolina in order to collect two paychecks. Apparently, per Marvez, that's not happening from the Chapel Hill crowd.
The dispute centers on almost $1.8 million that Davis is owed from the settlement he signed upon his dismissal as UNC's head coach in July 2011. The source said that UNC doesn't want to pay the money if Davis accepts another coaching position, which is a stumbling block that also complicated his hiring earlier this year by the Tampa Bay Buccaneers.

FIU is set to sign Davis to a multiyear contract averaging roughly $500,000 a season, the source said.
If Davis leaves, that will be the second of Greg Schiano's coaches staff who has committed to leave before the 2012 season ends.
The only reason Davis took a gig with the Bucs is the Bucs promised he would not coach, just be an advisor order to get around his contract with North Carolina.
Joe suspects whether Davis leaves or not, other coaches will leave as well soon — involuntarily.