"There's Been A Spike In Intensity"
December 6th, 2012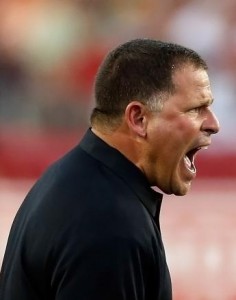 The leader of the New Schiano Order cracked the fundamentals whip in practice yesterday, and it apparently it had a noticeable impact.
Today, Greg Schiano said his team will not be caught taking the lost-eight-in-a-row Eagles lightly. In fact, Schiano said the opposite is true.
"There's been a spike in intensity," Schiano said of the Bucs' work this week. "We know where we are and what's happened the last two weeks."
This is music to Joe's ears. Great pro organizations rise up and play their best ball in December. These next four games are a big test for the New Schiano Order. It sounds like they'll be as ready as ever.