Teammates, Schiano Race To Defend Freeman
December 19th, 2012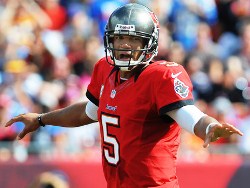 After four straight weeks of declining productivity, largely turning the Bucs from a team with a clear shot at a postseason berth to a team that will watch the playoffs on the couch, Josh Freeman has become sort of a pinata for Bucs fans. They're impatient with Freeman's lack of progress, especially in important games, and pine for the team's first playoff win in a decade.
Joe can sense the tidal wave that has turned on Freeman believes the Bucs never will play in mid-January with him as a starter.
It has gotten so bad that Freeman's teammates and even coach Greg Schiano have been quick to defend Freeman and be outspoken that the problems with the offense aren't just Freeman's and that he is working overtime in an effort to right his wrongs.
"He is the most focused on the team," Bucs wide receiver Mike Williams said on Buccaneers Total Access Monday, heard locally on WDAE-AM 620. Freeman is "first one in here and last to leave with the coaches, I don't see any other quarterback doing that. I know it sounds cliché but it is true. He tries to get better every day. He always knows what mistakes he has made and how to get better from his mistakes.
"Basically, he is a fighter. He will keep fighting. He is the ultimate competitor. He wants to win. That's where he got his nickname from, the comeback kid. If we are in the game in the fourth quarter, I will give [the ball] to Josh every time. He is trying to do all the right things. People see a couple of mistakes and think it is his mistake and it isn't even his, sometimes it's the receiver didn't see the read or we didn't see the high and supposed to break off the route or sometimes it is the line. He is going to make mistakes as a young quarterback but he is going to get better too.
"That's what people have to realize that it's not always the quarterback's fault and a lot of times it is not his fault. A lot of times it is just a communication issue."
Williams wasn't the first to come to Freeman's back. So too did tight end Dallas Clark after the game, so reported NFL freelance writer Dory LeBlanc.
"It's definitely not just one person," Clark said. "[We] got a lot of things we have to iron out as an offense. Unfortunately in this league the quarterback, head coach, and other guys are always the first ones to throw under the bus, but I'll be the first one to say it's me, it's everyone. We all have to play better and I think we have people here that will make it happen. But certainly no one should take the brunt of any of this. It's a team thing right now and we have to get it fixed."
When pressed about Freeman's, which came at the worst possible time for the Bucs when they were 6-4, Schiano shrugged his shoulders and was confident Freeman will eventually come out on top, so he said in his day-after press conference Monday.
"If Josh Freeman wasn't coming in and spending all kinds of time here and I wasn't getting texts and our coaches weren't getting asked questions at 10 p.m. at night about coverages and things like that, then yeah, I'd have reasons to be concerned," Schiano said. "But I know everybody goes through better times and lesser times. I also know those who persevere, who tend to their work, they will be fine and Josh [tends to his work]. He will be fine. Sometimes if you get into a swell or a slump, you have to fight your way out."
Even Bucs icon Ronde Barber got into the act last night on the Buccaneers Radio Network, specifically calling the 2010 and 2012 editions of Freeman– not 2011 — among the most detailed, hardest-working guys he's ever been around. Barber said Freeman always has notes with him, is constantly talking Xs and Os, and only Brad Johnson might have been a more obsessed quarterback, which Barber says led to Johnson lasting 17 years in the NFL.