Still A Bad Season
December 31st, 2012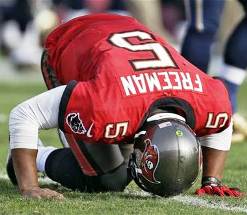 Yesterday Joe appeared, as he often does, with his good friend Bobby Fenton on the Bucs Postgame/Postgame Show heard locally on WDAE-AM 620.
Fenton had an interesting rant about the Bucs season. He said in no uncertain terms the Bucs season was a failure. If a team doesn't make the playoffs, Fenton explained, then said team has failed.
Fenton also noted that for any Bucs fan to suggest that the Bucs had a good season because they won three more games than last year is "a loser's mentality." This attitude, he believes, stems from a now 10-year absence of a playoff win.
Joe believes Fenton is on point, especially since the Bucs were in the driver's seat for a playoff berth and fell face first in the dirt losing five straight and finding themselves on the couch for January football, as opposed to playing meaningful January football in the playoffs.
Sure, the Bucs made some inroads, improved in some areas (the rush defense in particular), but each team's goal is to get to the playoffs.
The Bucs failed to do so. As a result, Joe, like Fenton, cannot see how the 2012 season can be called a success.