Seems Competition Coming For Josh Freeman
December 31st, 2012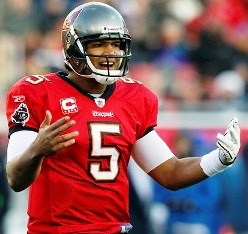 It sure smells as if struggling Bucs quarterback Josh Freeman may get a decent backup to help push him to be his best self.
In this morning's press conference, Greg Schiano made it clear to the Tampa Bay pen and mic club that he believes competition at all positions is beneficial to a football team and did not duck the notion it could also help Freeman.
"I will meet individually with josh. Again, it was an up and down year but you look at 4,000 yards and records all over the place. A lot of positives there. Certainly when an expectation level is set and you don't make it, there is disappointment. Josh is probably his own toughest critic so I don't know if anything I am going to tell him is going to shock him. I think perspective and sequencing what he has to do until we get back together April 15 , first thing he has to do is get away from the game a relax a little bit. Then there is a sequencing of things that I think has to happen for him and we will discuss that and part of that will come out of the evaluation.

"I am not all in with myself yet so how can I be all in with Josh Freeman or any other player? I need to evaluate. What I can say is, [Freeman is] a 4,000-yard passer, a [team] touchdown record [holder]. There are things you say, 'Wow!' Does he frustrate me? Yeah. But those things frustrate him too. Quite frankly I really like Josh Freeman. [I have] to evaluate every single thing for what is best for this organization Do I think Josh Freeman will win Super Bowls in this league? Yeah, I do. I hope that happens here. But I have to evaluate everything before I can say, 'That is what I am doing.' I do believe in competition at every spot including the quarterback. I want to have as many good football players on our football team as we can at every single position. As much competition as we can create throughout the football team rises the level of everything. It's human nature when there is competition the level rises."
Now there is a rule of thought that Freeman getting pushed may just rattle him and unnerve him and he may regress.
This is the quandary the Bucs find themselves in with their quarterback. His contract runs out after the 2013 season. Should he hit the lottery or should the Bucs sign him to a team-friendly, salary cap-smart pact?
Maybe seeing how Freeman reacts to being pushed will give the Bucs an idea about the details of his new contract.