Saints Are Awful In The Fourth Quarter
December 14th, 2012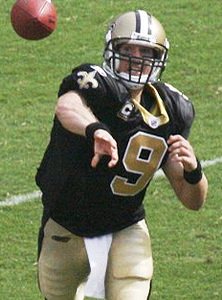 Remember how the Bucs coughed up a lead to the Giants in the fourth quarter? How about the Dixie Chicks? Perhaps the Redskins? Maybe the choke job to the Beagles is still fresh in your memory?
Oh, and didn't Drew Brees have his way with the awful Bucs secondary in the fourth quarter?
Well, Joe may have some salve for those wounds. In recent weeks, the Saints may be playing worse in the fourth quarter than the Bucs, difficult as that may be to fathom.
This information is sent via the interwebs by Mike Triplett of the New Orleans Times-Picayune. In the past six weeks, the Saints have been outscored 43-6 in the fourth quarter.
Quarterback Drew Brees has particularly struggled late in games. His fourth-quarter passer rating of 66.6 ranks 33rd in the NFL among all quarterbacks with at least 34 passing attempts.

Brees has completed 54 percent of his passes in the fourth quarter with four touchdowns and six interceptions.

Of course, those numbers are skewed by the fact that Brees has been playing catch-up in a lot of fourth quarters, throwing several desperation interceptions. Regardless, the performance hasn't been anywhere near his usual standard.
Joe wants to be confident, wants to believe that with the Bucs' potent offense (provided quarterback Josh Freeman is having a "good-Josh" day) and the rotten Saints defense and the trend the Saints have established, that the Bucs can win if they need a couple of scores late in the game. And maybe even keep whatever faint hopes of a playoff berth alive.
Then Joe quickly flashes back to a Bucs' pass defense that that has played so terribly of late it would have a struggle stopping Robinson High School's passing attack.