Really Hard To Defend Josh Freeman
December 16th, 2012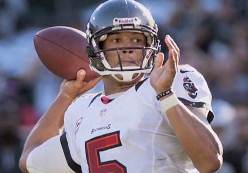 First, let Joe get this out of the way: Josh Freeman will be your Bucs starting quarterback for the rest of the year and, barring injury, in 2013.
But the way Freeman has freefalled the past four weeks, seemingly growing worse by the week, Joe is beginning to wonder if the Bucs will just wash their hands of Freeman after his contract expires after the 2013 season. If Freeman plays next year like the past four weeks, it will be awfully hard to justify the Bucs re-signing him.
As of this typing, only two quarterbacks who have started this season, John Skelton and Chad Henne, have worse pass-completion percentages than Freeman who is at 54.7 percent, No. 34 in the NFL.
Here are some of the quarterbacks who have better accuracy than Freeman this season: Christian Ponder, Ryan Fitzpatrick, Carson Palmer, Kevin Kolb, Nick Foles, Michael Vick, Blaine Gabbert, Cam Newton, Matt Cassel, Jake Locker, Ryan Tannehill, Mark Sanchez.
Joe remembers when former Bucs quarterback Shaun King, one of only three quarterbacks to lead the Bucs to an NFL Championship game, suggested Freeman needs to see a shrink, and Bucs fans howled in outrage.
Joe remembers popular sports radio personality Adam Schein state he trusted Ponder more than Freeman, and again Bucs fans screamed in protest.
Looks like King and Schein may be onto something, huh?
And, don't even suggest Dan Orlovsky should start. Only those who never watched Orlovsky (or are blind drunk on Jack Daniels) would think such nonsense.
Right now Joe has to wonder if Freeman is approaching Jason Campbell territory, where Bucs rock star general manager Mark Dominik just lets Freeman walk after his contract expires?
Last week Joe thought Freeman could be a serviceable quarterback, but not one to trust to win games. Joe's reevaluating that thought after Freeman's pathetic four-pick, 26-of-47 loss against one of the worst defenses in the NFL. Freeman didn't put one point on the board and threw two picks in the red zone when the game was still in doubt.
Freeman is currently 23-31 as a starter.
Joe is hoping that with a full offseason to work with Freeman, perhaps Mike Sullivan can find the magic bullet. Joe is very confident that, barring a direct order from Team Glazer, the Bucs are not nor will not be shopping for a quarterback before 2014.
Freeman has all the toys in the world an NFL quarterback could desire. He has all the tangibles a team would want from a quarterback. The job simply is not getting done.
The Bucs were in the playoff hunt and Freeman's lousy games the past month knocked them out. That is not acceptable from a starting quarterback.
It's pretty clear though that Freeman's career will hang in the balance next year. It's do or die for Freeman. In 2013.