"Not Sure If He's The Answer"
December 31st, 2012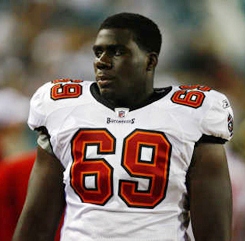 Joe's hardly one to agree consistently with former Bucs guard Ian Beckles, but Joe will side with Beckles' take on Demar Dotson.
This morning on WDAE-AM 620, Beckles had high praise collectively for the Bucs' offensive line this season minus Dotson.
"I'm not sure if he's the answer, " Beckles said of Dotson.
Dotson struggled against St. Louis and didn't have his best game yesterday. His pass blocking must improve. Greg Schiano talked about craving competition at all positions today, and Joe believes serious competition at right tackle is a critical offensive priority this offseason.
Jeremy Trueblood will not return, barring some strange act of God. And while Joe does not expect the Bucs to invest more serious money on the offensive line after last offseason's commitments to Carl Nicks and Jeremy Zuttah, there should be enough money laying around to score a starting-caliber right tackle.
Rockstar general manager Mark Dominik has talked openly about shunning drafting offensive linemen — he's only picked one in four drafts — preferring the free agent or practice squad route in order to first see how the lineman adapts to the pro game because college spread offenses have made it harder to scout a guy's potential at the pro level.
Dotson is signed through 2013 at about $1 million per year. He's a good guy and Joe exects him to return. Joe just thinks the Bucs should try to upgrade.