No Raheem In This Team
December 30th, 2012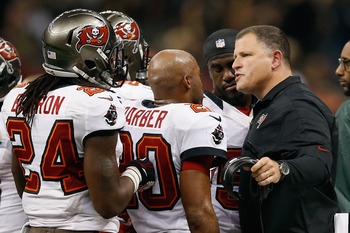 The leader of the New Schiano Order had a lot to prove today. After the heinous shutout in New Orleans two weeks ago, Greg Schiano said "I know what to do" to snap the Bucs out of their freefall. But that didn't happen last week.
Today was Schiano's final shot to show he had true command of his Bucs and could get their minds and bodies right. And the Bucs responded by soundly beating the best in the NFC on the road. Very impressive.
Chucky couldn't do it in 2008. Raheem imploded in 2011. Schiano found a way. And it was almost as if Schiano was more animated today and refused to let his team lose. Lip readers saw him screaming "do your job" while ripping and coaching Anthony Gaitor for allowing a TD to develop in front of him on 4th-and-7.
It was a bizarre 7-9 season, and better coaching probably leaves the Bucs with an even better record.
But Joe's confident Schiano will improve. And if the Bucs can somehow duplicate their stunning 2012 offseason, they should be a very dangerous playoff team in 2013.