Mole To ProFootballTalk No Big Deal
December 21st, 2012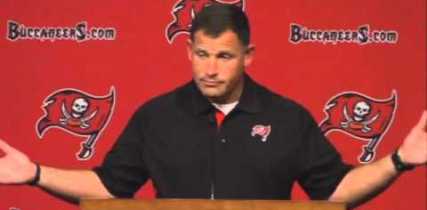 There has been all sorts of Bucs news this past week and little of it has been good for the team.
Sports talk radio has been non-stop raging on quarterback Josh Freeman, after his weekly freefall led to the Bucs dropping four straight and out of the playoff race, culminating with a grotesque shutout to the Saints in which Freeman threw four interceptions.
Then there was a special teams captain getting all handsy on the sideline with front seven coach Bryan Cox.
Not to be outdone, a mole reached out to Mike Florio, the creator, curator and overall guru of ProFootballTalk.com, claiming Bucs coaches need to go back to college.
To which Josh Katzowitz of CBSSports.com writes, so what?
It's certainly not out of the question that one player — or perhaps a faction of the team — isn't happy with Schiano, but you'll also find some kind of dissension on just about every football team in existence. That doesn't mean Schiano has lost his team; personally, I like the direction in which the Buccaneers are headed.
Interesting point Katzowitz has there. Even when the Bucs won the Super Bowl, not everyone was on Chucky's side. Remember when Meshawn Johnson and Chucky got into it on the sideline on Monday Night Football? Difference was the Bucs were winning and those hostile to Chucky kept quiet as a result.
Joe's pretty sure the Bucs will have a second purge of players in the offseason to ensure the team is filled with Buccaneer Men.