Mike Smith Stumps For Ronde Barber
December 26th, 2012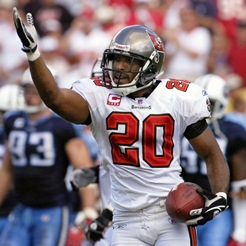 There is a very real possibility that Sunday could be Ronde Barber's last game in a Bucs uniform.
If that comes true, Dixie chicks coach Mike Smith hopes Barber has one more game left in the tank: the Pro Bowl.
Smith, talking to the Tampa Bay pen and mic club via conference call, lauded Barber as one of the best defensive backs ever to snap on a chin strap and believed Barber's play at safety this year warrants a Pro Bowl selection.
"I think Ronde is very deserving of Pro Bowl status." Smith said. "He is a guy that has not only done it this year but he has done it for a long time. He is one of the most efficient defensive backs – doesn't matter where you play him, corner, nickel, safety, dime – he can do it all.

"I know the past couple of weeks he has gotten back into his nickel role a little bit more because of the situation there in regards to injuries. He has a great knack for the football and understands the game about as any DB who has ever played it."
Joe just hopes Barber, if he does hang up his cleats, does so with a win.
As hacked off as Barber was when the Bucs lost to the Eagles — and trust Joe, he has never seen Barber that upset — the thing that pained Joe most wasn't so much the loss but the pain on Barber's face when he realized the Bucs blew a chance at a postseason appearance.