Josh Freeman's Flaws "Too Visible"
December 25th, 2012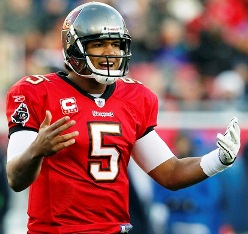 Joe is starting to wonder how much if any Josh Freeman has improved over last year after reading a nugget from the numberscrunchers at ProFootballFocus.com.
Joe thought it was interesting earlier this year that Bucs rock star general manager Mark Dominik noted in his first interview with Greg Schiano, the very first words were to Dominik and Team Glazer was that Freeman is forcing the ball "too much to the tight end," meaning Kellen Winslow, Jr.
Has Freeman broken that habit? Read between the lines of a break down of Freeman by Khaled Elsayed.
Frail Freeman

So how about that 2009 class of quarterbacks? When the Bucs were winning we weren't among those buying into the Josh Freeman (-3.2) hype. With the running game struggling to get going and the team forced to play catch up, his flaws have been all too visible.

His decision making is at times ponderous, his accuracy erratic and his chemistry with Mike Williams suggesting something of a turbulent relationship. He threw the ball over 10 yards in the air on 22 occasions yet completed just six of these passes. It was as if he came into the game saying he was going to attack two rookie cornerbacks despite what the coverage was like. His 55.6% completion percentage flattered him and he finds himself in a position where next year is a truly massive year for him.
So, adding two-and-two together, is Freeman now forcing balls to Williams? Notice that, per ProFootballFocus, three of Freeman's picks were targeted for Williams.
Well, Winslow may be gone, but is Freeman still locked in on certain receivers? Notice Rams middle linebacker James Laurinaitis said the Bucs were tipping off plays.
Is there a way teams have figured out when Freeman is targeting Williams, thus accounting for Freeman's ugly spike in interceptions?