Josh Freeman And The Pass Rush
December 3rd, 2012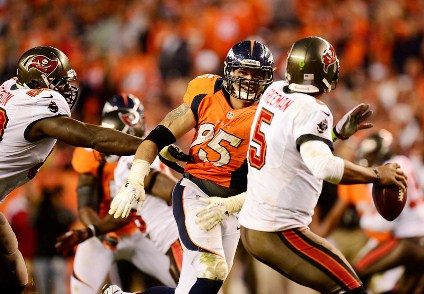 Yesterday, many of Joe's readers were angered when Joe wrote how Josh Freeman's vanishing act in the third quarter led to the Bucs losing a lead, and losing a game to the Broncos.
"But he was pressured by the pass rush" was the convenient cry/excuse Joe read from those angry with Joe's commentary.
Joe believes this is nonsense. Here's why:
Does a good pass rush help a team? Clearly. This is not debatable. Joe's only belief is that an elite quarterback — which Freeman very well may still be one day — adapts to problems and overcomes obstacles in order to lead his team.
This did not happen yesterday.
First, yes, there was a pass rush. This is understandable. The Broncos, after yesterday's games, are third in the NFL in sacks. Did any sane, sober person believe Freeman would have all the time in the world to throw the ball? If there is such a person, said person is awfully naive.
Besides, the Bucs' offensive line gave up one sack yesterday. One! Does that sound like the Broncos had a complete jailbreak against the Bucs?
Guess which team has one of the best pass blocking offensive lines in the NFL? That would be the Bucs. After yesterday's games, only the Broncos, Texans and Giants have allowed fewer sacks than the Bucs.
Joe also wrote yesterday that Jay Cutler and Aaron Rodgers, two quarterbacks on teams that, unless they totally collaspe, will be playoff-bound, would pick up a bar tab the rest of the year to have an offensive line like the Bucs', even with all the injuries to starters.
The Packers have given up the second-most sacks in the NFL this year; the Bears are nearly as bad at No. 5.
(FYI, Matty Ice has been sacked more than Freeman.)
Yet, Rodgers and Cutler, faced with adversity, find ways to adjust and overcome obstacles to lead their teams to critical wins.
Please do not get the wrongheaded notion that Joe is somehow anti-Freeman. Joe spent the better part of the first month of the season dispelling illogical premises from readers that the Bucs should draft Geno Smith — or worse — bench Freeman for Dan Orlovsky, which is simply beyond the pale.
Freeman is not yet an NFL elite quarterback. A good quarterback yes, a young quarterback, yes, a quarterback who can still be among the NFL's top clutch players, yes.
He's just not there yet. But the Bucs may need him to be if they are to run the table the rest of the season to have a shot at a postseason game.
The only thing keeping Freeman from being among those elite players in Joe's eyes is for him to be consistent. Nothing more.
Props to Josh and the Bucs for making a late comeback in Denver. Too bad that didn't need to happen.