Josh Freeman And Pressure
December 11th, 2012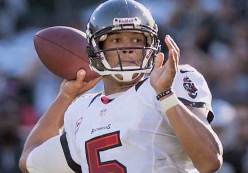 Last week, when Joe noted Bucs quarterback Josh Freeman folded under pressure and vanished for a quarter, which the Broncos took advantage of and rallied for a key win, Joe was largely raked over the coals for pointing out what some fans considered heresy.
But more proof was on video Sunday for all to see — all who cared to see. Freeman was simply off, terribly so, in an embarrassing, playoff-killing loss to the Beagles, a game in which a rookie, third-round pick playing in his fifth NFL game stood tall under constant pressure from the Bucs and delivered a win.
Well, the folks at ProFootballFocus.com have studied the video and are of the mind that Freeman's performance was far more ghastly Sunday then Joe initially believed.
In short, when Freeman faced pressure from the Beagles, he completed a grand total of zero attempts.
Off Day for Freeman

Buccaneers quarterback, Josh Freeman (-1.8) was a little off for most of the game. He never seemed to settle into a rhythm, finishing the game 14 of 32 on his graded passes. All year Freeman's struggles have come when he is under pressure, and this game was no different. When under pressure Freeman didn't complete a pass, going 0 of 9, and many of those nine were way off target. As soon as he feels pressure he rushes his throws and becomes extremely inaccurate. His QB rating with no pressure was a very impressive 106.9, but against pressure just 39.6.
As Joe has pointed out, priority No. 1 for Greg Schiano come January is to brainstorm a way to repair that sieve of a secondary. Whether that means changes to personnel and staff, time will tell.
The No. 2 objective for Schiano and offensive coordinator Mike Sullivan will be to find out why Freeman gets so rattled under pressure. Hell, Joe even kept his composure when he met Rachel Watson this past summer; no small feat.
Given Sullivan's track record with Eli Manning, Joe's confident Sullivan can help Freeman. It will be an important task as the near future of the Bucs franchise may very well depend on that outcome.