Josh Freeman And Miscommunication
December 20th, 2012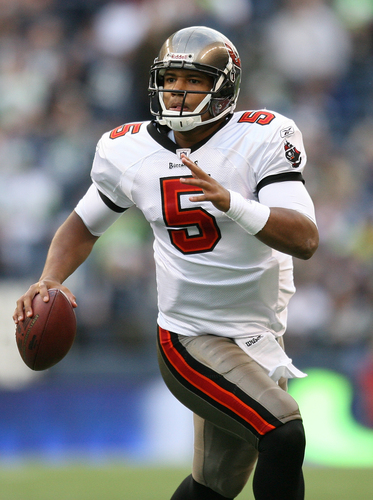 Even the biggest fans of Bucs quarterback Josh Freeman must admit the fourth-year Bucs signal-caller has had a lousy last four weeks.
Freeman went from average (with a couple of major misses) to shaky to bad to wretched in consecutive games.
Bucs fans, seeing younger quarterbacks on other teams drafted in later rounds having more recent success than Freeman, have grown impatient by the week and have reached full throat in their anger after Freeman's four-interception game to one of the NFL's worst defenses, the Saints last Sunday.
Each week, Freeman explained some of his misses and interceptions were "miscommucications." This just added to the fire fans who wondered aloud how, through 15 weeks of an NFL season, the quarterback cannot be in synch with his receivers.
In ways, Freeman's use of the term "miscommunication" seemed to infer to some that he was pointing fingers at his teammates and blaming others for the errors.
Joe had a chance to ask Bucs offensive coordinator Mike Sullivan Wednesday to explain how there can be so much miscommunication with the end of the season just 11 days away.
"Whether it is an incompletion or an interception, there are a wide variety of reasons why [miscommunicatoin] can come into play. It could be a breakdown in protection. It could be a poor execution of a route. It could be a poor throw. Not to get into any of the specifics, there is always a reason. I think with a lot of things we try to do, at least offensively in the passing game, which we have had some success with certainly, is an ability to be on the same page, to read and adjust to a coverage. Any one particular pass could have a number of options off of it, not just a merely an ability to step inside or outside. There are some subtleties with that combined with protection standpoint whether there is – again, not to get into too many specifics – there are enough variables there that while this is not what we want to have happening now. In my estimation we'd like to be further along. I can certainly see along with the growing pains that it is part of the process within the system that sometimes you have those [miscommunications].
"The key thing is when they do happen they end up being, ideally, incompletions or having to punt the football on third down, both of which we don't like but they are far better than turning the ball over. It is something that we are continuing to deal with but we are excited about."
To break down what Sullivan is explaining sort of requires a dip into football history. The Bucs offense, a branch off the Giants offensive limb, has some hints of the run-and-shoot, which is a nod to Giants offensive coordinator Kevin Grilbride's history with the old Houston Oilers where he ran a version of the run-and-shoot as the team's offensive coordinator.
For wide receivers in the old run-and-shoot, it was sort of the "run to daylight" concept, freelancing. Not unlike what Vince Lombardi created with running backs in the 1950s when he was an offensive coordinator at West Point and later, the Giants. At the time, it was revolutionary, the running back didn't just run through the hole — open or not — he was assigned on a play to freelance and "run to daylight."
But Sullivan's offense isn't that exotic in that the wide receivers can just run wherever they choose and hope the quarterback reads their mind. On every route there are several options depending on where the receiver breaks, what play the defense is in, down-and-distance, any number of factors.
And when receivers break, there could be as many as five or seven different options per route on how to break off, again, based on many factors and what Sullivan terms "variables." Think of it as each route a receiver runs has its own individual route tree.
It isn't just the quarterback that has to read the defense. So too must the receiver. The quarterback and the receiver must meld together. Any slight deviation and it could look like an ugly incompletion, or worse, a pick-six.
This is why Freeman always talks about "miscommunications." He may be reading one thing, a receiver might (incorrectly) be reading something totally different (or vice-versa) and the receiver will turn a route into something foreign to Freeman. In other words, quarterback and receiver are not melding, or "not on the same page," an oft-used phrase.
Of course, opposing defensive coordinators know this and might try to deploy junk defenses or a confusing defensive look at the Bucs for the purpose not only of stopping a pass, but confusing Freeman or his receivers. It's a giant (no pun intended) cat-and-mouse game.
It is for that reason that miscommunications can happen each game between Freeman and his intended targets. It's also why Freeman's teammates (receiver Mike Williams in particular) came out swinging in Freeman's defense as the uproar from the fans grew loud and testy.
"I wouldn't say there is too much thinking going on," receiver Tiquan Underwood said about the miscommunications of late. "We have shown we can handle it. It's not so much too much on our plate, it's getting on the same page. At the end of the day, the receivers have to be on the same page as the quarterback. When that goes well, we have shown we can play well.
"It takes a smart guy to play in this system. We are all smart here and we can handle it and it's our job. We just have to keep repping it in practice and get things right."