Joe Jurevicius And The NFC Championship
December 6th, 2012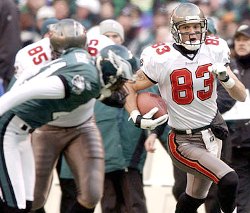 As Joe pointed out yesterday, how ironic the Bucs chose the Eagles game to honor the 2002 Super Bowl champions, because the Bucs got to their lone Super Bowl by upsetting the Eagles in the final game held at Veterans Stadium.
For former Bucs reciever Joe Jurevicius, that game marked the highest of highs and the lowest of lows. In a powerful, emotional interview Jurevicius gave Booger McFarland and Rich Herrera yesterday, co-hosts of the "Booger and Rich Show," heard on WHFS-FM 98.7, Jurevicius gave eye-opening details about how he was torn with no easy answer.
Jurevicius' infant son lay dying in a hospital yet his teammates also needed his services badly in the NFC Championship.
Missing virtually all practices leading up to the game to be with his son and having scant information on the gameplan, Jurevicius came off the bench and made a play that not only turned around the game, but may have launched the Bucs into the Super Bowl (Ronde Barber's pick-six late in the game nailed the Eagles' coffin shut).
Jurevicius spoke openly about how that week, his Bucs teammates became his family and Jurevicius notes how if it was not for the help of a specific Bucs teammate (that may shock some Bucs fans), Jurevicius, looking back, isn't sure if he could have suited up that day.