Greg Schiano Unloads On His Defense
December 28th, 2012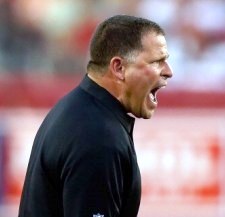 Today is the Bucs last full practice of the season. Tomorrow the Bucs may have a walk-through and then it's time to play the Dixie Chicks.
But just because it is the final real practice of 2012 doesn't mean Bucs coach Greg Schiano is going soft on the Pewter Pirates. In fact, per many Twitter reports, Schiano unloaded on his defense for lacking attention to detail this morning.
@RCummingsTBO: Bucs HC Greg Schiano was hot today: "Do your job," he screamed. "I know it's a novel concept. We're last in the (expletive) league – last!"
Joe's guessing that a pass defense drill was what set off Schiano.
Joe likes this for several reasons. One is that Schiano is clearly ashamed and embarrassed that his pass defense in his first season in the NFL is dead last and perhaps NFL-worst as in 93 years worst. Joe's glad to see this irritates Schiano as much as it does Joe.
Schiano, from start to finish, has not tolerated [email protected] performance from his players. Joe vividly remembers Schiano's first practice in the first rookie minicamp where, in the first couple of minutes of practice, lashed out at the rookies for "[email protected] it."
Joe senses there's going to be a second purge of players in the coming months.