Focused On Free Agents Out Of Playoff Hunt
December 26th, 2012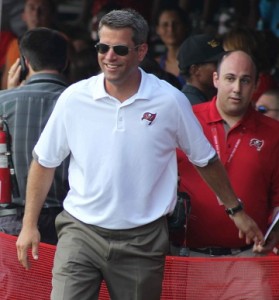 So what's rockstar general manager Mark Dominik and his staff up to during the final two weeks of the season?
First, every last Buccaneers scout is at bowl games, not NFL games, Dominik said Sunday on the Buccaneers Radio Network. That's surely a by-product of being elminated from the playoffs.
Also, the Bucs are dialed in on the film of potential free agents they like and have identified as potential targets, in order to see how they perform through the final two games. Dominik said extra attention is paid to players that are out of the playoff hunt. Dominik said it's key to study whether a player can rise above his team's situation "to find out how important football is to him."
Of course, it's safe to assume the Bucs also are heavily self-scouting their own team to see whose effort might have fallen off in December. 
The Bucs have lots of decisions to make on soon-to-be free agents, such as Roy Miller, Michael Bennett, E.J. Biggers, Dallas Clark, LeGarrette Blount and more.