Down Goes 5 Million
December 10th, 2012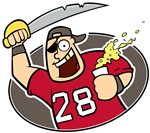 Joe would love $5 million. But Joe's going to have to settle for cracking 5 million visits to this here website in 2012.
It's not quite as big a deal as the fall of the Berlin Wall, but in a matter of moments JoeBucsFan.com will bust the 5 million mark for visits in this calendar year. This is new ground for Joe, and hopefully such an accomplishment will stimulate Rachel Watson to reconsider who is most important in her life.
Joe wants to issue a thank you to his readers, and the loyal companies you see promoted around here that put gas in Joe's tank, beer in Joe's belly, meat on Joe's grill, and afford Joe the time to bring his best self every day.
Joe's pleased to continue to grind away tirelessly, 24/7, in his role as the premier source of news and commentary for Bucs fans. If you ever encounter an off day here, rest assured Joe is either dead or Rachel finally knocked on his door.