Doug Martin: Haven't Hit The Rookie Wall (Yet)
December 5th, 2012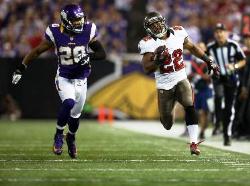 Doug Martin lit up the NFL recently when he went all Gale Sayers on the Minnesota Vikings and the Oakland Raiders.
Since, specifically in games against Atlanta and Denver, two of the best teams in the NFL, Martin wasn't much of a factor, certainly not to the extent as a one-man gang against Minnesota and Oakland.
Joe has touched upon this before and so too has Bucs coach Greg Schiano. The notorious rookie wall may be dragging down Martin. But don't tell that to the adorable Muscle Hamster, who mentioned to Woody Cummings of the Tampa Tribune he's good to go Sunday and beyond, so Cummings Twittered.
@RCummingsTBO: Bucs RB Doug Martin: "It's been a rough couple of weeks but I don't feel that (rookie wall) at all. My body feels good; my mind is clear."
This is good to read. Joe believes Martin didn't have huge games against the Dixie Chicks and the Broncos because the Bucs believed the only way to beat those teams was with an air race, and Martin, unless the Bucs had the lead late, would not be used that much.
Hopefully, Martin will be able to get back on his wheel Sunday.