Donald Penn The Key To A Win
December 7th, 2012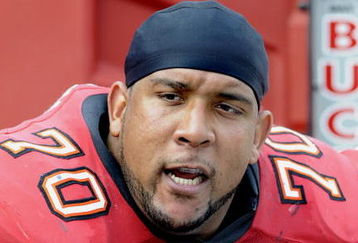 Yes, the Beagles stink this year, and Joe is not shedding a tear. Joe just thinks it is rich that the Bucs decided to celebrate the 2002 Super Bowl champions this weekend.
Even if the Beagles stink, the team is dangerous. It's not like the team doesn't have weapons.
This is why the football thinktank ProFootballFocus.com believes the key for the Bucs is the blocking of Donald Penn. The PFF folks, through their dogged research, say few NFL quarterbacks get rattled by pressure more than Josh Freeman. So it is their belief that if Penn can't handle his pass-blocking, Freeman will mentally crumble, opening the door for a Beagles upset.
Trent Cole vs. Donald Penn

With [defensive line coach Jim] Washburn out the Eagles will stray away from the wide-nine alignment as their primary formation. How this impacts defensive end Trent Cole remains to be seen, but Cole has not thrived in the system the way he did last season when he was the most productive pass rusher in the league. His PRP has dropped from 14.9 to 9.8. He still ranks 12th with 38 total pressures and three sacks in 298 pass-rushing opportunities, but he hasn't been his usual force.

This might be his chance to improve those numbers though because he draws Buccaneers left tackle Donald Penn. Penn has struggled this season and ranks 60th among offensive tackles in Pass Blocking Efficiency. He has allowed 40 total pressures and three sacks in 422 pass blocking situations. Penn containing Cole is so important because Bucs quarterback Josh Freeman in among the worst in the league when under pressure. Freeman's completion percentage is just 42.9% when under pressure to go along with six interceptions. Penn will need to protect his blind side if Freeman is going to have a successful day.
This is an interesting thought about Freeman. Earlier this week, Joe was flamed for suggesting Freeman has to learn to adjust to pressure and, like elite NFL quarterbacks, find a way to overcome obstacles and make plays.
Joe wasn't the only one who noticed this as well. So if one is to believe the premise the PFF crowd fronts, then Penn will have to lock down Cole, which Penn is capable of doing.