Donald Penn Raves About Doug Martin
December 30th, 2012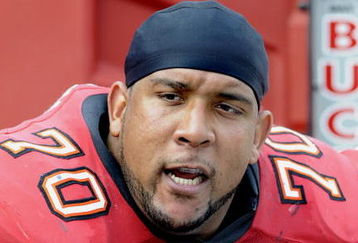 The always affable, talkative and no-nonsense Bucs left tackle Donald Penn offered his thoughts on the Bucs radio network after the game on the up-and-down season, and specifically, the running of the Muscle Hamster, who was spinning his wheel today for a touchdown and 142 yards.
"It's a great feeling to go into the offseason with a win," Penn said. "We were hoping [the Falcons] played all of their starters. We wanted the full Falcons, not the half-Falcons.
"All the bad stuff that happened last week got out of our system and all we could do [today] was good. We did things right. We ran the ball good and when we run the ball, we are a good team.
"My hat's off to Doug [Martin]. He does a lot of stuff that makes [the offensive line] look good. He has improved all year. I'm looking forward to next year. We have a good offense.
"My hat's off to Josh Freeman. A lot of people been down on him but he came in working hard every day, came in here smiling like he always does and played well."