Building The Bucs
December 7th, 2012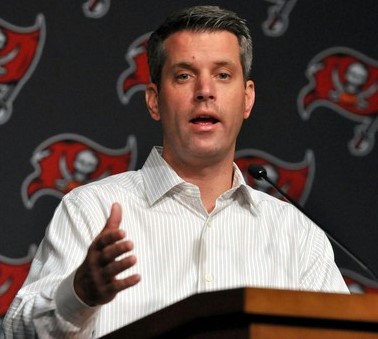 Recently, Bucs rock star general manager Mark Dominik appeared on a podcast with NFL.com's in-house college football scout Bucky Brooks.
During the podcast, Brooks asked Dominik about how he built the Bucs and what went through his decisions to draft certain players and to sign certain free agents. Here are some highlights:
On drafting Josh Freeman:
If you don't have a franchise quarterback in this league, you will be looking for one every year. We wanted to give Josh the best chance to succeed. He is in the fourth year of his five year contract. We try to surround him with talent because we believe he can throw the ball around to get it to [weapons].
The thought-process on when to draft Doug Martin:
Running back is devalued a little bit; that's why we stayed back [until late in the first round]. He's just scratching the surface.
On why he drafted a safety (Mark Barron) so early in the first round:
It helped a little bit with Eric Berry [being drafted high by the Chiefs] playing well. Mark Barron, watching him on tape and seeing how physical he is and how he splashes, the game is such a vertical game and Mark has the physical attributes to do both. Played consistent for all season long for a rookie.
On how Lavonte David caught his eye:
When we watched the tape of Nebraska, we loved how he was able to cover [the whole field] and his instincts, but it was his ability to be an every down backer is what [stuck out], where you can put him in the slot or put him on tight ends on third down.
On hiring Greg Schiano:
With Greg, he had the leadership everyone knew about and what he did at Rutgers looked pretty impressive. We wanted him to change one side of the ball [defense] but also make sure he changed [the culture], and the more and more we interviewed Greg we knew he was the right choice.
Here is the link to the full podcast. Dominik appears at roughly the 32:00 mark.