Are Bucs Tipping Off Their Plays?
December 25th, 2012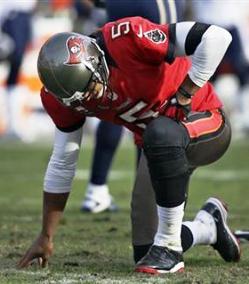 The biggest question the last few days in the Tampa Bay area isn't Rachel Watson asking Joe what present he is giving her for Christmas. No, the question is, "What has happened to Josh Freeman?"
After being one of the top quarterbacks in the NFL through much of the first three months of the season, Freeman is in a full-blown tailspin, now one of the worst, especially after throwing eight interceptions in the last two games.
It seems perhaps there is a reason, as there always is in football. It seems the Bucs are tipping off their plays.
Good guy Joe Smith ventured into the Rams locker room after the Bucs loss to the Rams and talked to highly underrated Rams middle linebacker Son of Animal, James Laurinaitis, who all but said the Bucs are tipping off plays, so Smith reports in the Tampa Bay Times.
"We just felt like coaches do a phenomenal job of getting us prepared," Laurinaitis said. "We felt like we had a good beat on these guys going into the game, and what they were trying to do. They had some tells. So we've got to credit the coaches and credit the guys for studying hard.

"There are a lot of tells you can get from teams week to week, this team a little more so. You just know when certain guys are in the game, you think more run. If other guys, think more pass. And they broke some tells. That always happens, teams self-scout, they do tendency breakers. But when they come back to the core of who they are, they go back to those tendencies."
Well now, the cat is out of the bag. If teams know what they hell you are going to run, of course defenses are more apt to not just shut you down, but pick off passes.
So if the Rams coaches know this, it's not unreasonable to think so too do the Saints coaches, the Eagles, the Dixie Chicks.
Joe knows that Andy Reid is a good coach despite how half the town of Philadelphia wants to burn his house down. The Bucs' woes on offense began against the dreadful Eagles. It's not unreasonable to suggest that Reid and his staff figured out the tendencies and then, so too did other teams.