What's Wrong At The Goal Line?
November 25th, 2012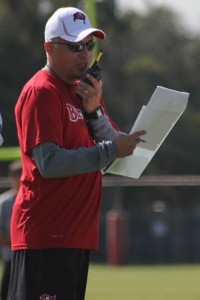 Again today the Bucs paid a bitter price for not being able to punch in a touchdown from first-and-goal about three yards from the end zone.
New Orleans flashback anyone?
After a gadget play that saw Mike Williams complete a pass to Vincent Jackson, the Bucs were poised take a 14-10 lead with a touchdown from that great first-and-goal opportunity.
On first down Doug Martin banged out a couple of yards. But then Josh Freeman threw incomplete on second down, (Where was the QB sneak?), followed by a pitch left to Doug Martin that was snuffed out for a 1 1/2-yard loss. Connor Barth then tied the game at 10.
The Bucs have been a statistically strong red zone team all season, but there are issues when they need inches, and Mike Sullivan doesn't seem willing to pound the QB sneak.
Joe's not sure what the fix is. But this might rank high on the offseason to-do list.