Playing Hacked Off
November 15th, 2012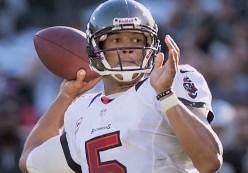 Earlier this week, Bucs quarterback Josh Freeman appeared on the Mike and Brady Hoke Show broadcast nationally each morning by the four-letter network.
When asked, in so many words, why the Bucs are succeeding of late rather than tanking it last year, Freeman all but said the team is playing p!ssed off.
If the Bucs make it to the playoffs, Freeman said the turning point of the season was the very first practice after the bye week.
"Any time guys get a new coach and he preaches his philosophy, there are going to be guys in camp going, 'Is this really going to work? Is this what we have to do?' Looking back, going into that bye, it came just at the right time. New regime, new coach, a lot new faces and you drop three straight. Going into that bye, I remember, 'We better come back loaded and ready to go.' and guys were all on deck and when we got back to work, we snapped right into it. We threw pads on the first day after a four-day break. Guys were flying around getting after it. It was a very enthusiastic practice. Where in the past, 'Man, we are in pads?' Guys would be hesitant to go back at practice like that.

"I think that day set the tone. Guys stepped up and said, 'This is going to be who we are. We are going to be a team where we do our job and we are going to prepare as well as we can.'"
Later, Mike and Brady Hoke asked Freeman what it is like to play for such a drill sergeant like Bucs coach Greg Schino and Freeman laughed, suggesting Schiano is not like the image many portray him to be.
"Honestly, it is great [playing for Schiano]. It really is. When that poll came out [where NFL players voted Schiano the coach players least wanted to play for], we had a captains meeting the next day and we all thought it was hilarious. He has that reputation but if you look back, you look at his teams at Rutgers, he got his players to play to their ability. They battled.

"He is an awesome coach. He lays out the plan to succeed, the steps, the goals and what to expect, it's simple. He lays it all out and the coaches say, point blank, 'We expect you to give your very best on each and every snap and every rep.' Guys have taken that personally. And you develop a culture that, rather than guys worried about being tired and 'Man, coach is too hard on us,' we are all trying to one up each other in each snap and each practice and keep pushing and you see the improvement. Then, you see the growth and the development of the team from a skill standpoint, from a mental standpoint, from a physical standpoint. Yeah, we lost some close ones, but that is in the past. It's all about the next game."
Is there any wonder why such me-first clowns like [currently unemployed] Kellen Winslow, Jr. and Sir SmokeALot Tanard Jackson and reality TV star wannabe Dezmon Briscoe were run out of town by Schiano? Joe smelled that transaction coming months ago, and no, it was not the smoke coming from Jackson's bong (allegedly). These guys were cancers!
It's the New Schiano Order. And we are currently seeing the results of a culture change at One Buc Palace. That change is the win-loss column and a postseason run.
To listen to the full interview Freeman had with Mike and Brady Hoke, click here.