Numbers Suggest Aqib Talib Below Average
November 2nd, 2012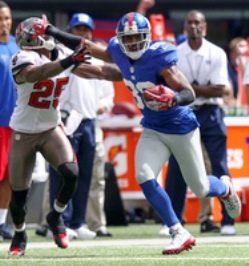 Just as Joe predicted (to himself) yesterday, and the prediction continued today, the pro-Aqib Talib faction, blinded by potential while unable to see the facts, were outraged that Bucs rock star general manager Mark Dominik was able find a sucker to cough up a fourth round pick for a guy the Bucs were going to let walk away after his contract expired in February.
Bill Belicheat was the sap this time, apparently a move of desperation as his toasty secondary is getting lit up right and left.
As the old cliche goes, any port in a storm.
The numbers crunchers of ProFootballFocus.com have monitored Talib's play this year and their numbers and calculations reinforce what intelligent Bucs fans have seen: that Talib is grossly overrated and at best, is an inconsistent cornerback on (when he began his four-game suspension) the NFL's worst pass defense.
How bad was Talib getting roasted? Some 66 percent of the balls thrown his way were completed. Doesn't sound much like a lockdown corner to Joe.
Here are the gory details Twittered by PFF:
@PFF: Talib this year: 36 targets, 24 receptions (66.7%), for 399 yards and 1 TD given up. 1 INT, 6 PDs, QB rating of 101.5 into his coverage
That's 16 yards a completion Talib averaged which is no less than outrageous! Myron Lewis could do just as well without all the drama and for a fraction of the cost.
As veteran columnist Gary Shelton once inferred this season on TampaBay.com, if you are, at best, an inconsistent cornerback on the league's worst pass defense, just what value do you bring?
Apparently, in the poker room of Dominik, a fourth round pick.