Mixed Feedback On Cam Newton
November 18th, 2012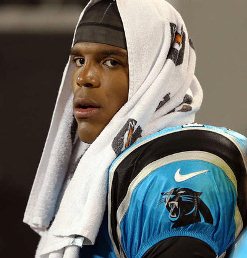 It was interesting to Joe to hear various Bucs defenders talk about Carolina quarterback Cam Newton. The feedback to Joe spanned from indifference to awe.
The awe factor came from Bucs defensive end Michael Bennett, who dismissed Newton's struggles through his sophomore season in the NFL.
"Nothing against the cam newton, we just want to beat the Panthers.
"I don't know that if he is struggling," Bennett said. "His yards are still good. You don't win the Player of the Year if you are not a great player. He has just made a few mistakes. He is an explosive player and at any time, he can be explosive.
"But I'm not worried about what he is doing wrong. No offense to Cam, but I want to beat the Panthers."
Adam Hayward didn't really want to talk about Newton and he admitted he wasn't laying awake at night worrying about what Newton is doing wrong.
"I know we just have to stop the whole team," Hayward said. Newton "is turning the ball over, that is a big part of why they are not playing well. We just have to do our job and not worry about that.
"The way we look at it is, Cam Newton is just another quarterback and if we keep him from getting on a roll, we will be taking care of business."