Mark Dominik Speaks
November 24th, 2012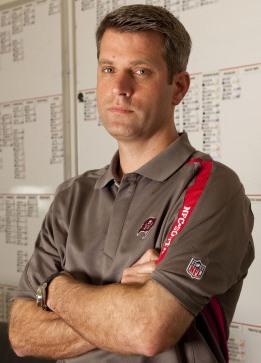 Earlier this week, Bucs rock star general manager Mark Dominik dropped in for a visit with Pat Kirwan and Tim Ryan, co-hosts of "Movin' the Chains," heard exclusively on SiriusXM NFL Radio. Dominik talked all things Bucs, from drafting Doug Martin to the play of Lavonte David and how well Greg Schiano and his staff have turned around the franchise into a playoff contender.
Tim Ryan: Let's have a conversation with the general manager of the Tampa Bay Buccaneers, coming off of four straight wins, big division game coming up; Mark Dominik joins us on the program. Hey Mark.
Mark Dominik: Tim, how are doing? Pat, how are you guys doing?
Pat Kirwan: I'm doing well Mark, we get a couple of visits from you a year and it is terrific. Congratulations on the start of the season and the foundation of personnel, you must be pleased how the young guys are coming along.
Dominik: Yeah, I am really, really excited about the development of the team in general and the leadership of Greg Schiano and what he has done. I heard you what you were talking about, the disappointments of having Carl Nicks and Davin Joseph on the injured reserve, that's $30 million dollars on the injured reserve. But the coaching staff we have here is able to get guys prepared to play on both offense and defense. It is a team effort here and guys are playing hard and it is fun to watch.
Ryan: It was fun to watch the game and call the game the other night [at Carolina]. Josh Freeman, down the stretch, Mark, just talk about them because, Mike Sullivan, what he has been able to do with the offense, obviously, Ron Turner the quarterback coach, Freeman standing tall in the pocket and staying tight. Hitching up and finding those throwing lanes. When the game got in his hand the other day, end of the fourth quarter, he had to drive the length of the field and into overtime, that is when he is at his best.
Dominik: I think what you were able to see, and a lot of others have been able to see, is that Josh has the ability to make special plays and special throws and has done a very good job for us again in the fourth quarter this year. He is top 10 in quarterback rating in the fourth quarter and top 10 in throwing percentages. Right now Josh is just playing in a good groove and believing in the players around him to make plays and that gives him confidence to go out there and throw the ball around and let guys like Vincent Jackson and Mike Williams and Dallas Clark make the plays like they did Sunday and then get the ball down to Doug Martin and all of that is tied together and is why our offense is clicking. That is why he is putting up some stats and I believe he is fourth in touchdowns.
Ryan: My God, has Doug Martin caught fire since the bye week? You traded up to draft him at the end of round one. Did you ever anticipate this kind of a rookie year for him? Because I am telling you, we stacked the numbers against some of the best in their rookie years, and what I like to call him, Martin Scorsese is right up there with them.
Dominik: (laughs) He has been what we wanted. You know, when you study guys and see them on tape and start salivating, you begin to wonder, "When is the best time to get him?" That's why it made sense — we could have waited until the second round but that's why we traded up to get him because we really love this player. We tried to make a concentrated effort to trade up and get him and thankfully we were able to find a trade partner late in the first round to go up and get him so people wouldn't change their mind overnight. He was one of those players where you had to hold your cards and try to figure out where he was going to go and we got fortunate enough to find a trade partner and pull the trigger and, Doug, guys he is a phenomenal player on the field but off the field, I got a chance to meet his parents, they are unbelievable parents and he is a special kid.
Kirwan: He is and he is special and I am jumping into your next pick. In the world we live in today and the way the game is played today, with the spreads and the formations, Lavonte David is like the perfect fit, your second round pick. That guy can do it all. He never has to leave the field.
Dominik: Yeah. He has been impressive for a rookie to be able to put the green dot on him and stay on the field and play all three downs. What impresses me about Lavonte is what you were talking about Pat, is his quickness and his speed. He is able to cover a lot of ground and he is such a consistent tackler for us, has made quite a lot of tackles for losses and is one of the tops in the league for total tackles. He is at such a productive position. As we all know here in Buccaneerland, No. 55 took that position and made it the WILL linebacker. Lavonte has stepped into some big shoes and has filled those shoes quite well. I've been impressed. He has certainly been a big part of our rush defense.
Ryan: I said this the other day, those splash plays are going to happen for him. As much as he plays you are going to start seeing interceptions and fumbles and some sacks here or there. Those things will happen for Lavonte David. He can't weigh 225 pound right now, Mark.
Dominik: That's pretty close to what he is. He is trying to stay around the 230 mark but he is so athletic that he burns those calories off. He works with our strength and conditioning coach to keep the weight on him because he plays so much. He is productive and another fantastic kid. He works hard but is so quiet off the field, he's the kind of guy you would love to have in your locker room for your team.
Ryan: You have a lot of character on your team. There is not a guy on your roster that I am more happy for than Gerald McCoy. I know his injuries first couple of years, watching him this year, hey, I don't have a problem saying it: He is playing better than Ndamukong Suh. Period. It's not like you had an opportunity to draft Suh because Detroit grabbed him before you could and how the picks lined up. Gerald McCoy was on the board when you picked and you grabbed him. I love the way he is playing, Mark. Am I off base in what I am seeing in McCoy because he looks fantastic?
Dominik: He has been everything we wanted him to be. He was clearly the guy we were going to take at the third spot and he has been productive but, through no fault of his own, had biceps injuries. Disappointing for Gerald as much as it has been for the fans and the Buccaneer organization. He is so critical for the defense and he helps not only the run defense and the tackles for loss but I think he has three sacks now. He creates opportunities for others to make plays and that is such an important aspect. Gerald has done a good job, I still consider him a young player because he is only in the third year of his contract. He has been voted captain so he is going in the right way in his career.
Ryan: Hey, Greg Schiano, let's talk about him. I call him the patriarch because I was talking to your players and I know it was hard for some of your players when he first got there but this team is a tight knit family, bro, that comes together more every week.
Dominik: Yeah, he started the first day when he stood at that podium and talked about what type of a football team he wanted to build. I just walked away even more sure of the man we hired to be the coach of the Tampa Bay Buccaneers. The players have bought in and that is so important — you know this Tim as well as anybody — the players want to respond to a guy who they know will make them better. They want to play this game for as long as they can for all the right reasons and Greg Schiano does that with our players. He is in all phases, offense, defense, special teams. He had so much experience at the head coach position and been in the NFL, he had a lot of checks in the boxes that made sense to us and he had so many players come out of Rutgers that were pro-ready. He ran a good program and he made a lot of sense to us and he is our coach and we are now 6-4 and we have a lot of work to do, and I think we are heading in the right direction.
Ryan: Man I know perception is not reality but I perceive him and just looking at him, he just looks like a football coach, bro. There is something about him on the sidelines.
Dominik: (laughs) He does, he has that square jaw and that serious look on his face but he is passionate about football. He loves it, lives it. And he finds players and we work together to get this thing going. I think one of the things that speaks to how well he works is we were worst in the league in run defense last year and we are now No. 1. We move Ronde Barber from corner to safety and now he is playing at a Pro Bowl level at safety. It shows our coaches are doing everything they can to get the most out of our players. They are giving it everything they've got.
Kirwan: Another thing I'd like to talk about is the communication level between you and Schiano. It has to be brilliant because guys you are bringing in fit right away. What I try to tell our listeners is, the coach needs to do a great job of explaining what he needs and what he is looking for from the character to the talent to the scheme. To me, you hit a home run right away in that area. The guys you brought in and plugged in there look like they have been there for 10 years.
Dominik: I think you are exactly right. It is so important, communication with the front office. Greg and I sit down multiple times every day and get together and talk about who we should bring in for a workout and whether we sign them or not, who we want on the practice squad. It's always constant communication so that both of us are on the same page. We don't always agree but we work together so well to make sure what is the best decision for our organization. That's the way we look at it. That's the way we started back in January and that's the direction we will continue to go.
Ryan: Hey mark, how is Eric Wright with the Achilles?
Dominik: He is struggling and it is frustrating for him. He just hasn't been able to get his body right. It will be close this week to see if he can go. It is frustrating for him but he is doing everything he can to get ready and healthy and we can use his ability on the field. It will be a game-time possibility.
Ryan: Last one from me. He will never get talked about, no one will ever notice him. No. 41, Erik Lorig, the fullback, is a big part of what you are doing, playing about 50 percent of the snaps.
Dominik: Tim, I appreciate you bringing his name up. I think he is playing phenomenal and is continuing to step up. Doug Martin is putting up some big numbers and a lot of that is straight talent but the guys up front are making it happen for him. That offensive line, but then Erik Lorig has been able to get production from that position. He is a true fullback in this league. Maybe we can send them both to Hawaii this February? They have done a great job of working off of each other. Erik has soft hands and can catch it coming out of the backfield and he is a threat out of the backfield but has some toughness because he was a defensive player. He can get that crease for Doug when we need a big one.
Kirwan: Now get some rest Mark because I am looking at your schedule and you've got Matt Ryan, Peyton Manning and Drew Brees the next month.
Dominik: Yeah (laughs), you know, it never gets easy. You walk into the stadium in Carolina and you look across the field and see Steve Smith and you think about what he can do and Luke Kuechly and what he can do and Cam Newton, it is never easy. It is so hard to win in this league, that's why the coaches preach a week at a time and this is the Atlanta season.
Kirwan: What is your schedule, are you getting out to the colleges on weekdays, are you getting to any of the college games on Saturdays? What is your schedule like?
Dominik: You know Pat, I don't do that very much. I have a great staff of college scouts, eight others I really trust so I just sit in the building and watch tape. I let the scouts go get their information go get their first opinions and I sit here a lot of times and watch tape of guys they tell me I should look at, guys that they like from these schools. So I stay in the office. I guess this is from my old days of pro personnel…
Kirwan: No, that is definitely your pro personnel background.
Dominik: … that is right. I love evaluating practice squads, I love looking at the waiver wire, trying to find guys off the street. It is working well for us and I am kind of excited about where we are going but it is one game at a time so let's go.
Ryan: We are happy for you bro, four consecutive wins, best of luck against Atlanta.
Dominik: Guys, thanks for having me with you.