Information From The Other Side
November 25th, 2012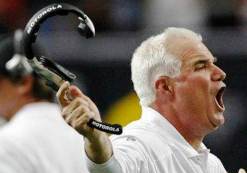 Here are some quotes Joe cobbled together from both Matty Ice and Dixie Chicks coach Mike Smith during their conference call earlier this week with the Tampa Bay pen and mic club.
Matty Ice
On how the Dixie Chicks offense has changed from a running offense to a passing offense:
Been the way games have shaken out that it has worked out that way. Still capable of being a running football team. One of those years we felt we needed to throw it a bit more.
On Bucs pass defense:
I think, statistics are sometimes misleading. I think it is a good defense that plays with effort and they have a very a good pressure package. I think it is a defense you have to be prepared for and respect. They have talent they have on that side of the ball.
On scoring off turnovers:
The Bucs have done that better than anybody. I think they have 11 touchdowns off of turnovers which is the best in the league. This is a huge game for us because it is the next game on the schedule and a division game.
On winning so many close games:
That is the nature of the NFL. There will be close games and you have to find a way to win. Some games offensively we have done it and sometimes defensively we have done it.
On playing the Bucs:
This is definitely a rivalry. Games in your division carry extra weight and with Tampa, our games have come down to the fourth quarter. In these kind of games, you just know coming into it is going to be a battle. It will come down to a handful of plays that will determine the outcome.
On Michael Bennett:
He has played awesome, he really has. Been relentless in both the run and the pass. He is leading the Bucs in sacks which shows he has had a really, really good year. His effort is as good as anyone I have seen this year. He plays really physical.
On secondary:
It is different. Different guys, some in different spots. Ronde Barber is still that savvy guy that knows coverages as well as anybody in the NFL. I think they have talent and have done a pretty good job. They've won a lot of games.
Dixie Chicks coach Mike Smith
On Dixie Chicks linebacker Sean Weatherspoon returning to the lineup:
He is obviously one of the better players on our football team and we have missed him. He is a three-down linebacker that has earned the role of being the leader of our defense and has ascended to be our signal-caller. Will be good to see him out there playing again.
On differences with Greg Schiano:
They are playing very confidently and they are a very well-coached team in all three phrases. Been impressed with ability to stop the run. That talks about a mentality. And they have run the football extremely well. I have been impressed with the new parts they have added at running back. Doug Martin is a guy with very good vision and it will take multiple pads to get him down. And Josh Freeman has returned to playing at what I felt was a Pro Bowl level two years ago and I think he is now playing at a Pro Bowl level as of right now, doing a great job of running the offense.
On rivalry with the Bucs:
Been a lot of close games. Said this many times, I think the NFL South has been the most competitive division year in and year out since I have been there. I think a lot of that has to do with the proximity of the teams geographically. Always been hard-fought games and anticipate another hard-fought game and it does not matter where the games are played.
On the Bucs offense:
This is a very potent offense and I think you can see that statistically. They are very good. Top 10 in a number of critical factors. Scoring at a very high rate and doing it both running and throwing the football and that is something that will create issues. No. 2 scoring team in the NFL the last four games. Their numbers are very impressive. They are very good.
How the Bucs are able to win games despite being last in pass defense in a pass-happy league:
Well, the way you have to look at it is, they are No. 1 in run defense and they are very opportunistic in their turnovers. They are doing a very good job offensively of not turning the ball over and when they have taken the ball away, they have done a very good job of scoring touchdowns. Very opportunistic. No. 1 in the league in scoring off of turnovers. When you look at wins and losses the most important statistic is turnovers. That's the most important. Everything else is empty yards, fluff yards. It is all about points and being able to possess the football.
On Dallas Clark:
I see a very efficient player at the tight end position. The thing about Dallas, he creates matchup issues. He can align in-line meaning right next to the offensive tackle and he is a guy that can be flexed out and create matchup issues for safeties and linebackers. The last four games, you have seen his production spike. I think Coach [Bucs offensive coordinator Mike] Sullivan done a very good job in distributing the ball to their playmakers.
On Michael Bennett:
He has had an outstanding year not just rushing the passer but on the run. What we see is an explosive pass rushers coming off the left side. Not just an effort guy, he has strength. He can push the tackle back to suppress the pocket but he also has athletic skills to create some mismatches with the right tackle.
On Mark Barron:
Wow, I think that Mark is an impact player. He is a guy you can put close to the line of scrimmage and he can feel comfortable but at the same time, he can matchup up with displaced tight ends. There are a number of young players on that roster who have stepped up. The young man at linebacker, [Lavonte] David has had an exceptional year as well. I think the Bucs have some guys we will face for a long time and will be good players.
On his team being among the bottom in the NFL in both rushing offense and rushing defense:
Well, it's not where we would like to be statistically. I think each and every year and each and every game there is a different dynamic in how you are going to attack people. I think we are very transparent in the process, saying Michael Turner was not going to have 300 rushing attempts like he has had in the past. Makeup of your team changes from year to year but we have to improve on running the football and on defense, we have given up way too many explosive runs. And that skews your rush per attempt and total yards giving up the run.
On working in the past with Bucs offensive coordinator Mike Sullivan:
Mike is one of the most intelligent guys and has an incredible work ethic. As you know he has West Point connections and you can't say enough about a guy who has spent time there. He started as a defensive coach in this league and flipped over to the offense. He worked with Eli Manning and I don't think there is any doubt that he was going to be a very successful coach. He has a great mind in how to attack people. He does a very good job taking advantage of the strength of his team and his players and getting them to make plays.