Greg Schiano Speaks
November 4th, 2012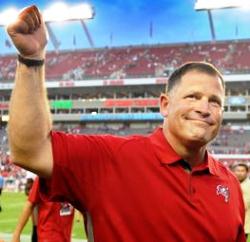 Bucs coach Greg Schiano spoke on the Bucs radio network following the game and Joe decided to transcribe his thoughts.
"I think our team showed a lot of character. We were a step behind early in the game and not characteristic of who we can become and needed to just slow it down and man, did we erupt.
"Defensively, we had balls thrown on us that we have to get better at but the big thing is with the game on the line the defense found a way to make a play. That's what you have to do in this league
"I think Doug, it was a big day for him. He had a big outing in Minnesota and then come out and play the way he did today and the line really stepped up. [Jeremy] Zuttah unselfishly moves to left guard and we don't miss a beat and I am really proud of these guys.
On preparing for the Chargers next week at home:
"We will feel good on the flight home but as we watch film we will get aggravated. We have to get ready for a good San Diego team who is in the same position we are."