George Johnson Released
November 1st, 2012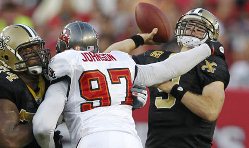 Joe thought one highlight of the preseason, and a good player off the bench, was defensive end George Johnson, who saw lots of playing time with injuries to Adrian Clayborn and Da'Quan Bowers.
Johnson did a helluva job of getting pressure on the quarterback, and in some cases, batting down passes with his paw. But apparently he was not good enough. Lost in the wake of the Aqib Talib trade was that the Bucs waived Johnson this afternoon.
Joe is very, very surprised at this. The only conclusion Joe can figure out is that Bowers is really improving to the point he can now play an entire series, not just a handful of third down situations.