Freeman Had An Eli-like Day
November 19th, 2012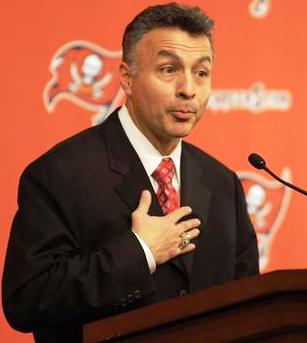 Giants fans were ready to run Eli Manning out of town when he was a young quarterback — his head coach along with him — and it was often for performing a lot like Josh Freeman did yesterday minus the near-miracle victory.
Popcorn-munching, coffee-slurping, fried-chicken-eating, oatmeal-loving, circle-jerking, beer-chugging Peter King of Sports Illustrated and NBC Sports fame takes note of this in his must-read Monday Morning Quarterback column on SI.com, though King seems to not realize that Freeman was just fine for the first 10 minutes against the Panthers yesterday.  
King spoke to Freeman after the win in Carolina and tries to put the QB's performance into perspective.
6. This Josh Freeman's pretty good. The game Josh Freeman played in Carolina Sunday reminded me of a few Eli Manning games we've seen over the years. Stink it up for the first 50 minutes, dig a hole, then find a way to coolly get out of it. "We were way too sloppy for a long time," Freeman said from the team bus to the airport after the game. "I was way too sloppy." The Bucs made up 11 points?a field goal, a touchdown, a two-point conversion pass?in the last five minutes of regulation, then won it on a beautiful Freeman-to-Dallas Clark pass in overtime. The play of the day, though, was the 24-yard dart from Freeman to Vincent Jackson with 12 seconds left in the fourth quarter?with 280-pound defensive end Greg Hardy steaming in on a stunt in Freeman's face, with two defenders buzzing around Jackson. "You don't really have many options," said Freeman, considering the pass rush and the clock and the need for a touchdown and not a field goal and the physicality of Jackson to fight off defenders to make the catch if he needs to. "You just gotta go. It was remarkable." We forget Freeman is 24 years old. He's six months younger than Ryan Tannehill. He's with a new head coach, Greg Schiano; a new quarterback coach, Ron Turner; a new offensive coordinator, Mike Sullivan; with a new franchise receiver in Jackson and a new tight end in the rejuvenated Clark and a new franchise running back in Doug Martin. And here comes Freeman off a terrible 2011, playing the best football of his pro life. "What we've learned so far this year," said Freeman, "is all that matters is battling. Games are 60 minutes, longer sometimes, and we knew we've got the players to make sure we can win in the end." 
King goes on to look at some statistical babble on Freeman, and elightens the nation of Freeman's greatness throwing deep and struggles throwing short.
Regardless, the Eli Manning analogy is interesting, given that Mike Sullivan was credited for helping Manning mature into the guy who won a Super Bowl last season. It's comforting to Joe that Freeman's wild day yesterday won't faze the offensive coordinator.